Beauty tech is an exciting new trend that has been gaining traction in the beauty industry. From at-home laser treatments to cutting-edge advancements, the beauty industry is constantly evolving to provide us with exciting and effective solutions.
In this article, we will explore the latest breakthroughs in beauty tech, unveiling the most innovative and game-changing devices that are revolutionizing our skincare, haircare, and overall beauty routines.
These devices offer a wide range of features and benefits, from improved skin care results to convenience and cost savings. With the right device, you can enjoy the latest in beauty technology without having to leave the comfort of your home. Get ready to discover the future of beauty devices and embrace a new era of self-care and personal grooming.
1- TheraFace PRO
It is a cutting-edge device designed to revolutionize facial therapy and wellness. This advanced technology combines the benefits of facial treatments with modern innovations, it enhances skin health and overall rejuvenation.
TheraFace PRO utilizes techniques such as microcurrent stimulation, LED light therapy, and facial massage to address various skin concerns effectively. It boasts the added functionality of a portable skin spa, featuring six magnetized attachments specially designed for rejuvenation. Among these attachments is a microcurrent head that effectively lifts and tones your facial muscles, promoting a youthful appearance.
Additionally, there is a specialized cone attachment for targeting tightness in your mandibular joint, providing relief and relaxation. The TheraFace PRO also includes a red light ring, perfect for treating fine lines and enhancing skin texture. Upgrade your skincare routine with this remarkable device and unlock the secrets to radiant skin.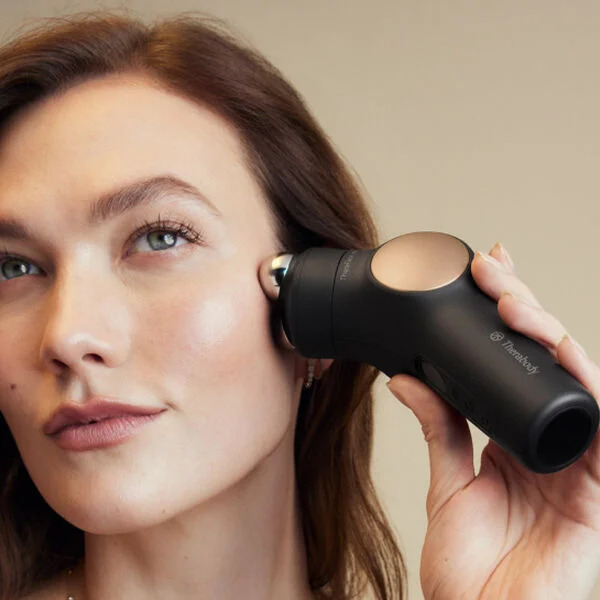 2- L'Oréal Colorsonic Hair Coloring Device
This Product will Change your Hair Coloring game Forever!
Introducing L'Oréal Colorsonic, the ultimate solution for a home hair salon experience. This innovative device revolutionizes the process of dyeing hair at home by eliminating the challenges of complexity, time consumption, and messiness. Colorsonic features a unique dye-dispensing wand equipped with a nozzle brush that oscillates at a remarkable speed of 300 times per minute, ensuring swift and thorough coverage of the hair.
The system incorporates a recyclable cartridge that keeps the dye and developer separate until activated. When the wand is in use, the products seamlessly mix together to create the desired shade out of the 40 options available, while also conserving dye. The Users can effortlessly brush the Colorsonic through their hair, just like using a regular comb. Afterwards, the hair can be rinsed to remove the dye, and any remaining product can be saved for future touch-ups.
By offering convenience and consistency, Colorsonic aims to revolutionize the process of at-home hair coloring.
3- Zuvi Halo Hair Dryer
Hair Drying Reinvented! The Zuvi Halo Hair Dryer introduces a groundbreaking approach to drying hair, utilizing innovative Light Care technology for faster and gentler results. Unlike traditional hair dryers that blast hot air, the Zuvi Halo utilizes cutting-edge infrared-light technology by employing light instead of hot air, this dryer delivers accurate drying to the surface of wet hair. The hair dryer also features an ionizing function (preserves moisture within the strands) that reduces frizz and enhances hair shine, leaving you with silky, smooth locks. By directly targeting water molecules, this innovative dryer keeps the temperature lower, minimizing heat damage and promoting healthier hair.
With increased internal moisture retention and longer color vibrancy, the Zuvi Halo ensures that your hair looks and feels its best. The Zuvi Halo is the future of hair drying, combining advanced technology with user-friendly features for stunning results. The infrared light energy emitted protects the inner cortex and cuticle, shielding the hair from external damage and promoting overall health and strength.
Consequently, issues like frizz, split ends, and hair breakage are minimized. Moreover, the cooler temperature of the dryer helps maintain hair color longevity by keeping the cuticle intact and healthy.
4- Beautigloo – Mini Skincare Fridge
Beautigloo Beauty Fridge is a game-changer in the world of skincare and beauty. Designed with both functionality and style in mind, this innovative product offers a range of benefits that cater to the needs of beauty enthusiasts.
With its compact size and sleek design, the Beautigloo Beauty Fridge is not only a practical addition to any vanity or bathroom counter but also a statement piece. But what truly sets this beauty fridge apart is its advanced cooling technology, specifically engineered to preserve the efficacy and freshness of skincare products.
By maintaining a consistent and optimal temperature, the Beautigloo Beauty Fridge ensures that your serums, creams, masks, and other beauty essentials stay potent and extend their shelf life. With its numerous features and commitment to quality, Beautigloo Beauty Fridge is a must-have for those who prioritize both effective skincare and an elevated beauty experience.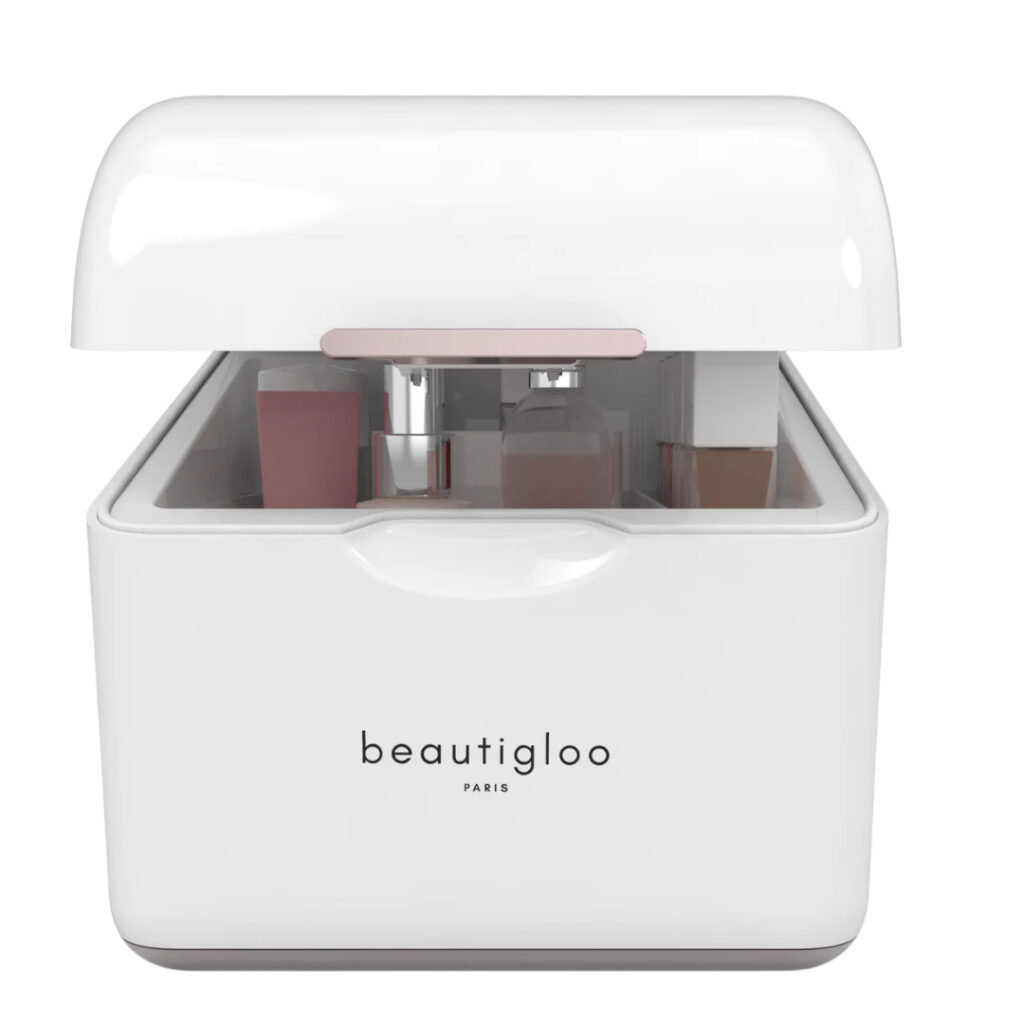 5- Ninu Smart Fragrance Bottle
The Ninu Smart Fragrance Bottle is an innovative device designed to revolutionize the way we experience and interact with fragrances. This state-of-the-art bottle combines technology and artistry to provide a unique and personalized scent experience. The Ninu Smart fragrance Botle is not just a container for your favorite scents, but a sophisticated device that allows you to control and customize your fragrance journey.
Through its smart features and connectivity options, you can explore a wide range of scents, adjust the intensity, and even create your own signature blends. By inputting your preferences and making a few selections, the app suggests a fragrance mix for you to try. But that's not all – you also have the freedom to adjust the scent to align with your unique preferences. Once you discover your ideal fragrance, you can save it to your personal scent wardrobe within the app.
The NINU SMART FRAGRANCE BOTTLE acknowledges that our moods fluctuate, and just like how you don't feel the same every day, your fragrance shouldn't be stagnant either. That's why NINU tracks your scent tendencies, the time of day, and even the weather outside, using Artificial Intelligence (AI) to recommend scents that complement your current day and mood. This smart bottle is truly a game-changer in the world of fragrance, offering an innovative and personalized approach to scent exploration and enjoyment.
6- Blackhead Remover With UV Function
The Blackhead Remover with its innovative features of Blackhead Detection and UV Function provides an effective solution for combating blackheads and achieving clearer skin. The blackhead remover utilizes the power of vacuum adsorption technology and strong suction to effectively extract blackheads, whiteheads, and other impurities from the skin, providing a safe and thorough pore cleansing experience that leaves the facial skin noticeably smoother.
What sets this device apart is its integrated 300KP HD camera, which offers 20x magnification and can be conveniently connected to your phone, allowing you to closely examine your skin's condition and monitor the progress of blackhead removal through a compatible app on both Android and iOS devices. This feature provides a clear understanding of your skin's needs, enabling you to capture images and record videos for future reference.
With its UV mode, the device goes beyond surface cleaning, penetrating deep into the skin to eradicate dirt and bacteria with ultraviolet radiation. Coupled with its strong suction capability, this blackhead remover ensures comprehensive cleansing, targeting even the tiniest blackheads for visibly improved results.
7- The Beauty Beam- Beauty Light
The BeautyBeam, also known as the Beauty Light, is a revolutionary accessory that can be easily attached to various beauty tools, providing natural lighting for all makeup and beauty applications. Whether you're struggling with shadows, need better visibility for detailed nail art, or simply want to enhance your overall work, The BeautyBeam is worth considering. Designed by a team of professional makeup artists, it replicates the effect of natural lighting, allowing you to see every detail up close.
With its compact size (0.5 x 1.0 inch) and a high-quality daylight spectrum bulb, The BeautyBeam fits perfectly on any beauty tool and emits a ray of natural light. The BeautyBeam has quickly gained popularity among beauty enthusiasts, professionals, and influencers, making it the ultimate choice for applying makeup, mascara, eyelash extensions, and using brushes, tweezers, lip gloss, and other beauty tools. Using The BeautyBeam is as simple as inserting your favorite tool through its silicone stretchable band. Its portable and sleek design makes it easy to carry and use anywhere, making it an essential accessory for anyone seeking to achieve flawless beauty effortlessly.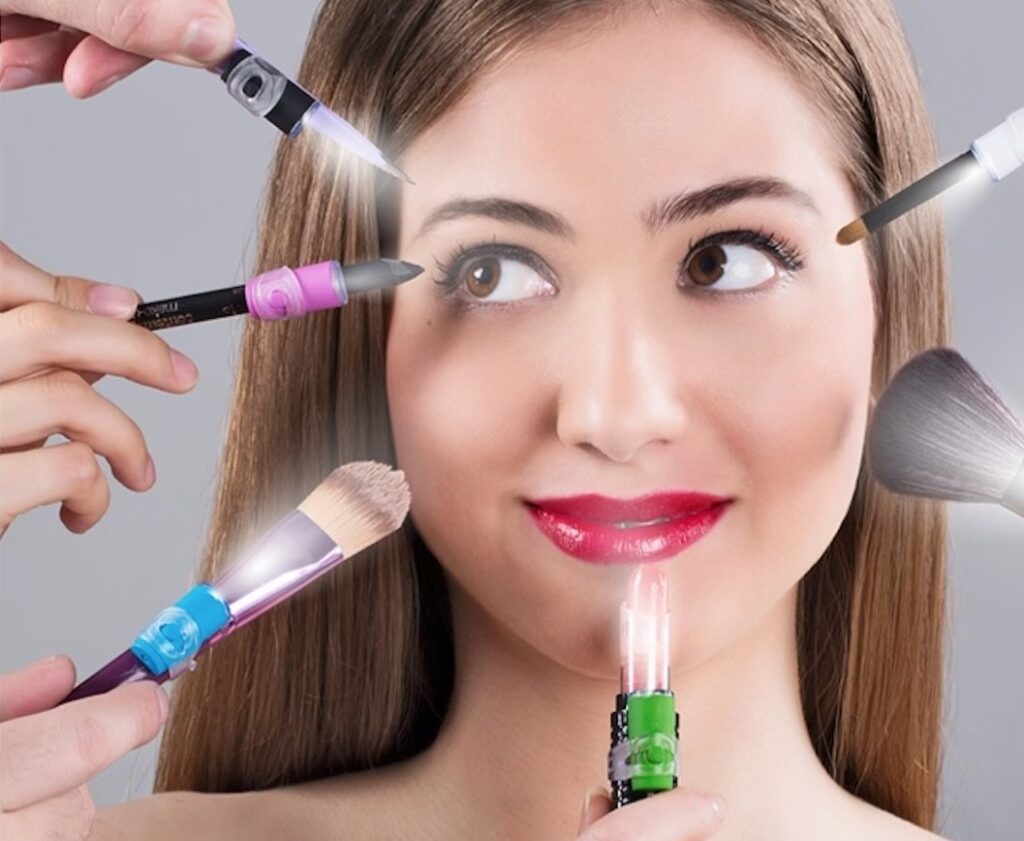 8- Tinbo – Modular Personal & Beauty Care Toolkit
Tinbo is a revolutionary personal and beauty care toolkit that offers a modular and customizable approach to meet individual needs. This innovative device brings together essential tools in a compact, portable, and customizable format. This innovative product combines functionality and convenience, allowing users to personalize their grooming routine. With its sleek and compact design, you can effortlessly carry this fashion-forward item in any bag for your daily life. Its impressive features include a massage comb for hair styling and scalp massages, dental floss for oral hygiene, a reusable cosmetic swab, a hair tie, and a compact mirror, all beautifully incorporated into its sleek design, adding a touch of dazzle to your beauty routine.
Conclusion
The rapid advancement in beauty tech is causing a remarkable transformation in the world of beauty. The innovations, like smart skincare devices, virtual try-on tools, and personalized beauty recommendations, are revolutionizing how we approach and enhance our beauty routines. As technology continues to grow into the beauty industry, we can anticipate even more game-changing innovations that will redefine our perception of beauty and self-care experiences. As beauty tech continues to evolve, we can expect even more exciting innovations that will transform the industry and improve the way we approach our beauty routines.
Read More:
The Best Skincare Tools for an Enhanced Beauty Routine