Sunscreens are products that protect the skin against sunburn and other forms of UV radiation from the sun. Germany is located in Europe, which is close to the equator and receives a significant amount of UV radiation from the sun. UV radiation is the primary cause of skin damage and skin cancer, so protecting the skin from this radiation is crucial.
Germany has a high incidence of skin cancer, which is largely due to the fair skin of the population and their tendency to sunburn easily. Germans enjoy spending time outdoors during the summer months, whether it's at the beach, in the park, or on a hiking trail. Sunscreen is important in Germany to reduce the risk of skin cancer and allow people to enjoy outdoor activities safely.
Some best sunscreens available in Germany are listed below!
1- Hawaiian Tropic Silk Hydration Protective Sun Lotion SPF 30
Immerse yourself in a tropical paradise with Hawaiian Tropic Silk Hydration Sun Lotion. This product offers sun protection with a side of luxury, complete with hydrating ribbons infused with the lotion.
Who's it for? Ideal for those who love a sensory treat while lounging under the sun.
Pros: The unique formula moisturizes the skin while offering solid sun protection.
Cons: The scent might be a bit overwhelming for those who prefer fragrance-free products.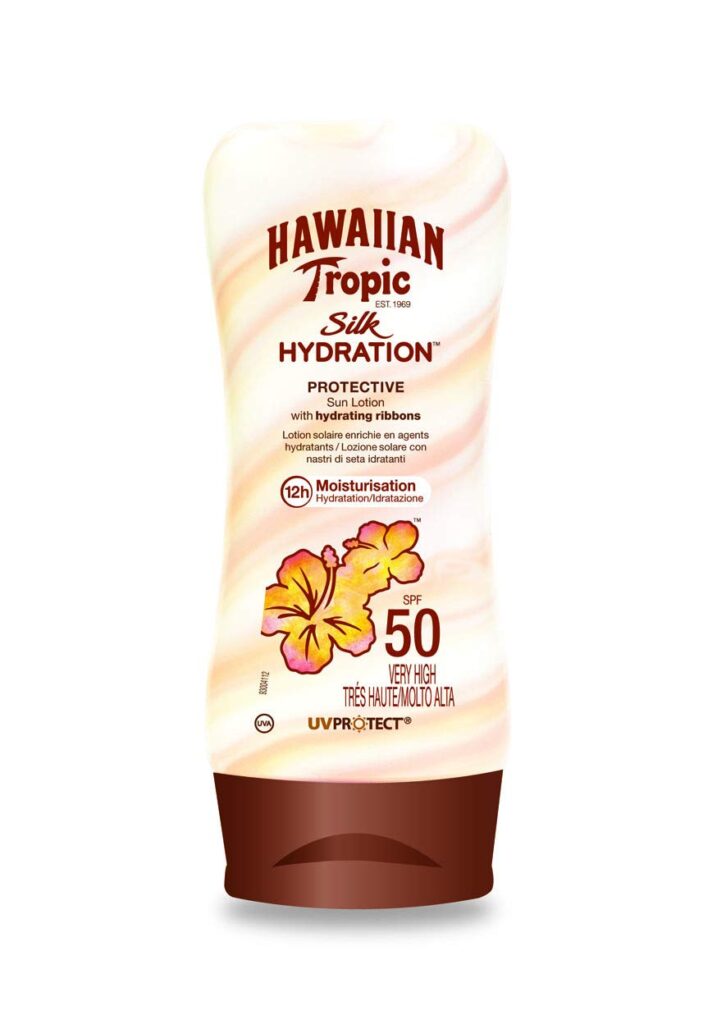 2- ISDIN Fusion Water SPF 50 Sun Cream
Harness the power of Spanish skincare with ISDIN Fusion Water SPF 50 Sun Cream. Known for its high sun protection and ultralight texture, this sun cream feels as light as water on your skin.
Who's it for? Ideal for those who seek a quick, non-greasy application before dashing out the door.
Pros: Its fast-absorbing, residue-free formula makes it perfect for everyday use.
Cons: The lightweight consistency might not provide enough hydration for those with very dry skin.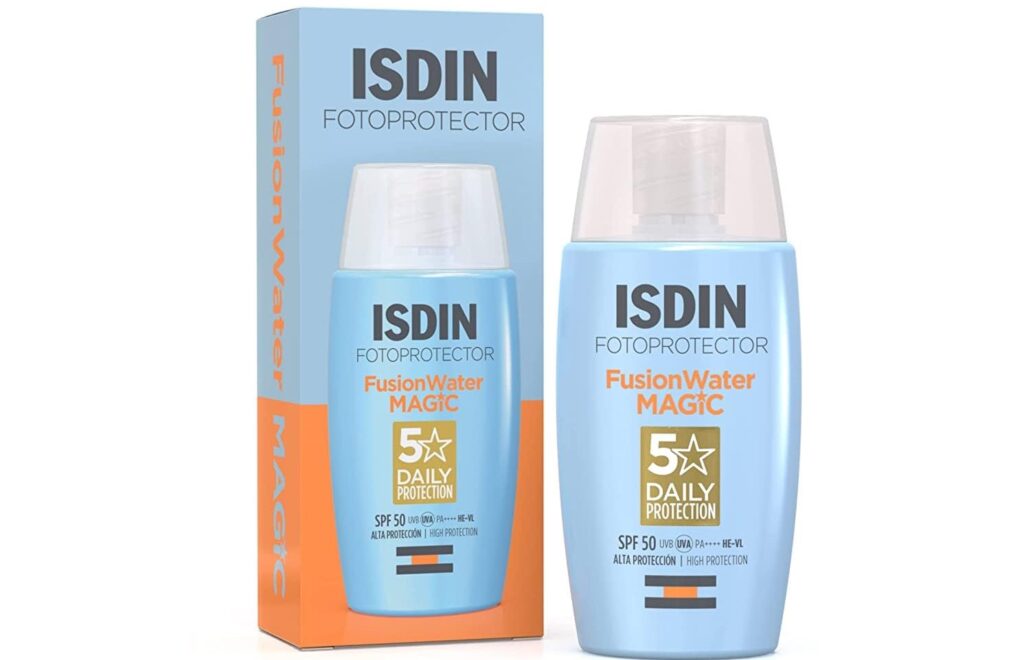 3- La Roche-Posay Anthelios Invisible Fluid UVMune 400 SPF 50+
French pharmacy favorite, La Roche-Posay, brings you sunscreen that's not just invisible but provides powerful protection against a broad spectrum of UV rays! 
Who's it for? Those who want maximum protection against the entire UV spectrum, from UVA to UVB to IR-A rays.
Pros: This product offers stellar coverage with its UVMune 400 rating, keeping your skin safe from harmful rays.
Cons: It might seem a little expensive, but for the comprehensive protection it offers, it's a worthy investment.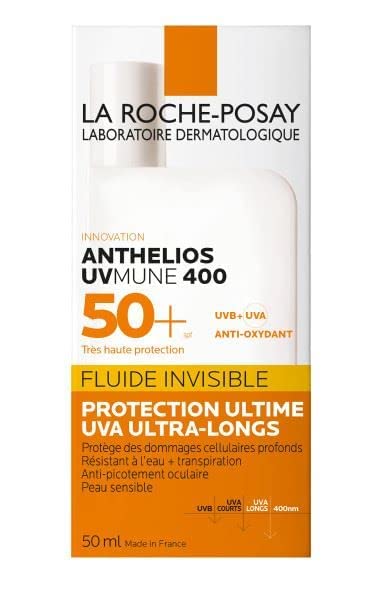 4- NIVEA Sun UV Face Anti-Age Sun Protection Q10 with SPF 50
NIVEA's Moisturising Face Sun Cream has taken sunscreen to a new level with their Anti-Age Sun Protection Q10 which provides sun protection with anti-aging benefits! 
It's not just a sunscreen, but a powerful anti-aging weapon in your skincare arsenal.
Who's it for? Ideal for mature skin types, looking for sun protection that also combats signs of aging.
Pros: This sunscreen offers SPF 50 protection and is enriched with Q10, a potent anti-wrinkle ingredient.
Cons: It might be a bit heavy for oily or acne-prone skin types due to its moisturizing formula.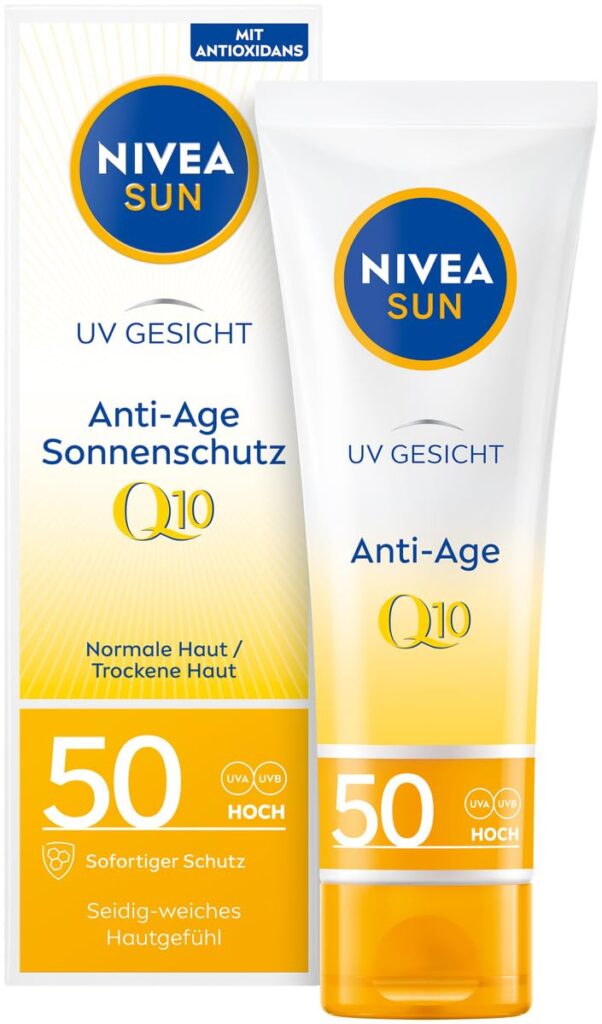 5- Eucerin Sun Oil Control Gel-Cream SPF 50+
Eucerin combines skincare and sun protection in a bottle with this Sun Gel Cream. This product is a boon for those battling oily skin, thanks to its oil control and anti-shine properties.
Who's it for? Perfect for people with oily skin who need sunblock that combats shininess.
Pros: This sunscreen offers dual benefits – it protects against UV rays while keeping your skin matte throughout the day.
Cons: Those with dry skin might find it a bit dehydrating due to its oil-control properties.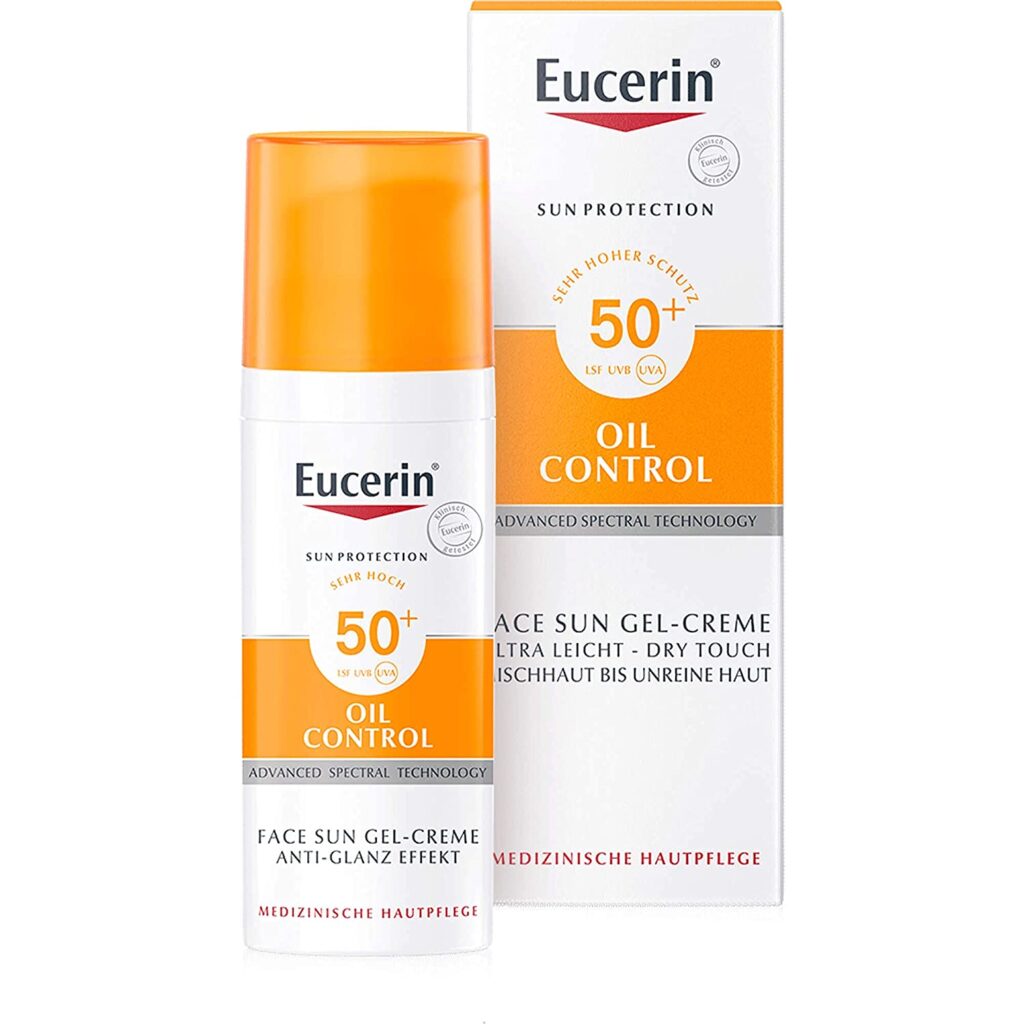 6- [TOCOBO] COTTON SOFT SUN STICK SPF50+
TOCOBO offers a unique take on sun protection with its Cotton Soft Sun Stick. Providing high protection, this easy-to-use stick feels soft and cottony on your skin.
Who's it for? Ideal for on-the-go individuals who prefer the convenience of a stick format.
Pros: It's portable, easy to apply, and offers high protection with an SPF50+ PA++++ rating.
Cons: It might not be suitable for individuals who prefer traditional lotion or cream formats for sunscreen application.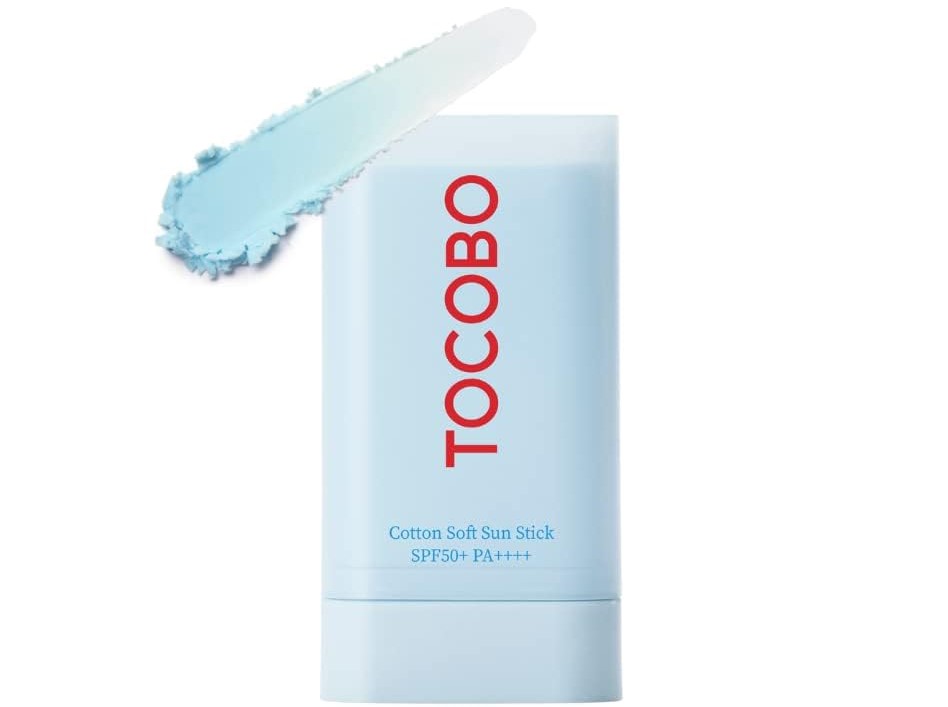 7- LADIVAL Allergic Skin Sun Protection Gel for Face
Ladival Perfume-free sunscreen brings a revolution for allergy sufferers with its Sun Protection Gel. Designed specifically for sensitive skin, it provides high sun protection without the common irritants found in many sunscreens.
Who's it for? Perfect for those with sensitive or allergy-prone skin looking for a safe sun protection solution.
Pros: The sunscreen is free from perfume, colorants, and preservatives, reducing the risk of skin irritation.
Cons: The gel texture might feel different from traditional cream or lotion sunscreens and may take some getting used to.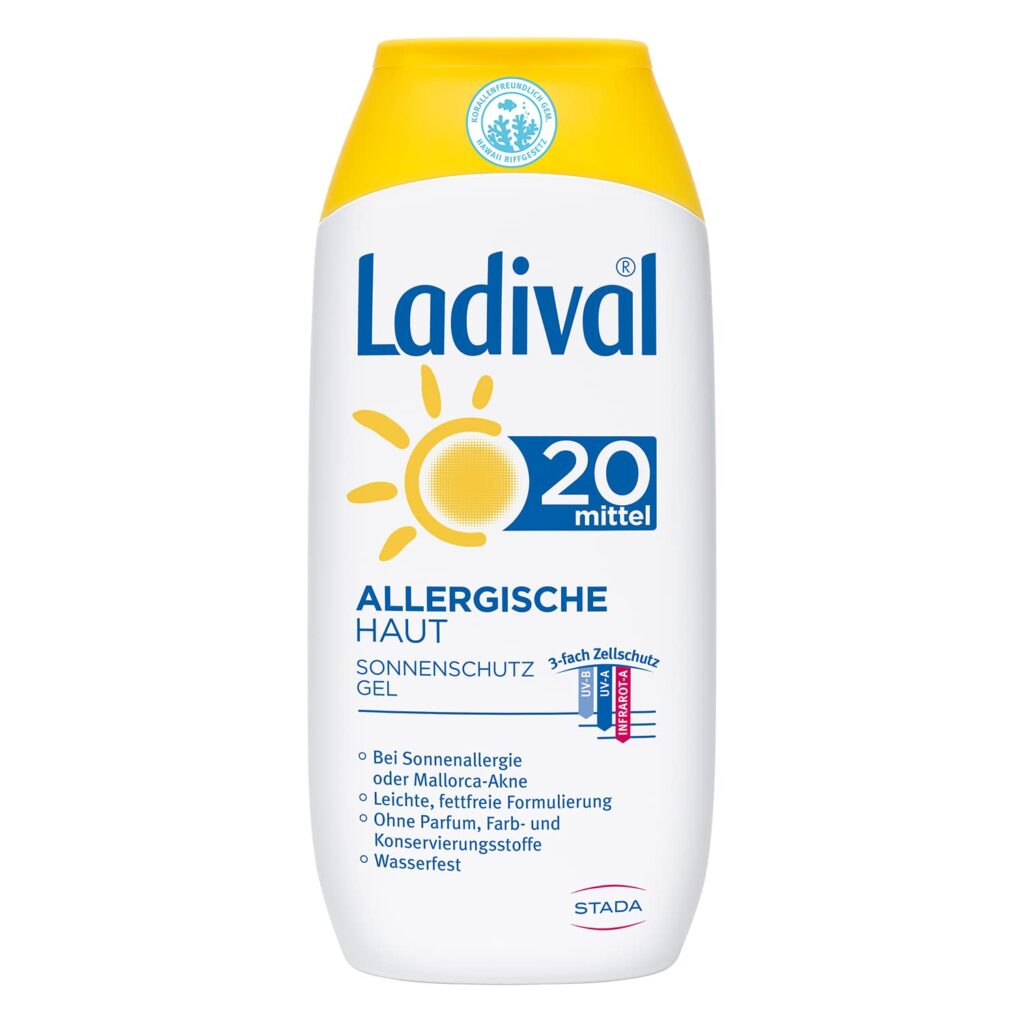 8- Bioderma Photoderm Max Aquafluide SPF 50+
Ending our list on a high note, we have Bioderma's Photoderm Max Aquafluide. A pioneer in the dermo-cosmetics world, Bioderma's product delivers top-notch sun protection in a light, easy-to-spread fluid.
Who's it for? Great for anyone who values a high level of sun protection without the greasy, heavy feeling of traditional sunscreens.
Pros: It offers excellent sun protection with an SPF 50+ rating and boasts an aqua-fluid texture that feels lightweight on the skin.
Cons: While its fluid consistency is generally a pro, those with very dry skin might need to apply an additional moisturizer for optimal hydration.
9- Garnier Anti-Ageing Sun Cream with SPF 50
Garnier introduces a sunscreen that works double-time with its Ambre Solaire Anti-Aging Sun Cream. With hyaluronic acid and Vitamin B, it moisturizes and reduces wrinkles, all while offering stellar sun protection.
Who's it for? Those looking for a product that's not just a sunscreen, but also a potent anti-aging skincare solution.
Pros: The inclusion of hyaluronic acid and vitamin B helps hydrate and improve skin texture while protecting against harmful sun rays.
Cons: It might feel a bit heavy on the skin due to its intense moisturizing properties.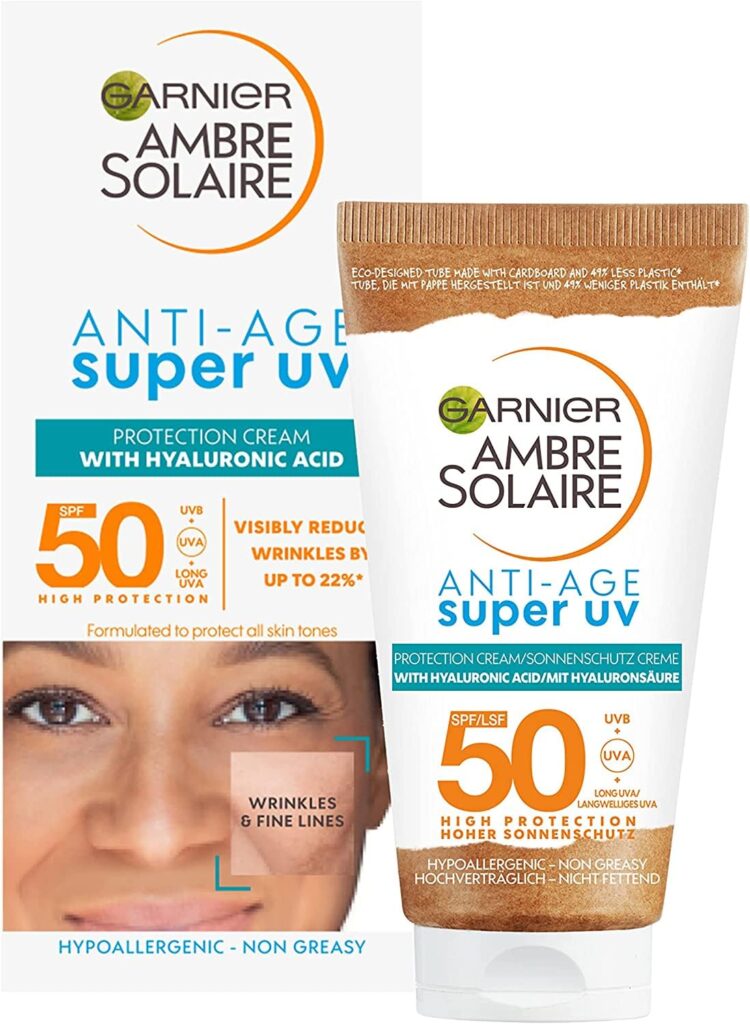 10- Avène Very High Protection Emulsion SPF50+
Avène brings forth its Very High Protection Emulsion, a sunscreen that takes sun protection seriously without causing a fuss on your skin.
Who's it for? Ideal for those with sensitive skin who need a sunscreen that can offer high protection without any irritation.
Pros: It provides excellent sun protection with an SPF 50+ rating and has a gentle, emulsion-based formula that's perfect for sensitive skin types.
Cons: The product might leave a slightly white cast due to its high protection level.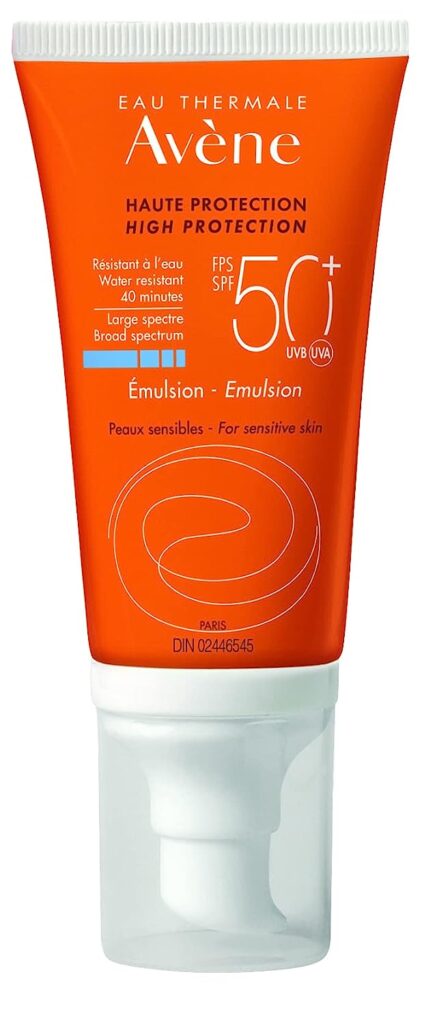 Mineral vs Chemical Sunscreens:
When you dive into the world of sunscreens, you quickly find that not all sun protectors are created equal. The two heavyweights in this arena are mineral and chemical sunscreens, each packing its own set of pros and cons. 
Mineral Sunscreens: The Skin Defenders
Also known as physical or inorganic sunscreens, mineral sunscreens act as a physical shield on the surface of your skin, bouncing off harmful UV rays like tiny mirrors. The active ingredients in these formulas are zinc oxide and titanium dioxide.
Advantages of Mineral Sunscreens
Mineral sunscreens offer immediate protection after application, making them a handy option for those spontaneous trips to the park.
They're also less likely to cause skin irritation, making them ideal for people with sensitive or reactive skin. For our eco-conscious friends, mineral sunscreens are safer for marine life, posing less risk to coral reefs.
Drawbacks of Mineral Sunscreens
On the flip side, mineral sunscreens can be thicker and harder to blend into the skin, often leaving a white or ashy cast, especially on darker skin tones.
Moreover, some formulas can also be a bit drying.
Examples of Mineral Sunscreens
If you're keen on going the mineral route, try the ISDIN Fusion Water SPF 50 Sun Cream or LADIVAL Allergic Skin Sun Protection Gel. 
They offer high protection with the minimal white cast! What else would anyone expect from sunscreen? 
Chemical Sunscreens: The Sun Soakers
Chemical sunscreens, also known as organic sunscreens, work a bit differently. They contain compounds that absorb UV radiation and convert it into a small amount of heat, which is then released from the skin.
Advantages of Chemical Sunscreens
They're generally more user-friendly, offering lightweight, easy-to-spread formulas that disappear into the skin without leaving a white residue. They're also great for people with dry skin, as many formulas contain moisturizing ingredients.
Drawbacks of Chemical Sunscreens
Unfortunately, they might cause irritation or allergic reactions in some people, especially those with sensitive skin. Furthermore, some chemical sunscreens have been found to harm marine life.
Examples of Chemical Sunscreens
If you prefer the ease and invisible finish of chemical sunscreens, the La Roche-Posay Anthelios Invisible Fluid and Eucerin Sun Gel Cream are stellar options.
In a nutshell, whether you opt for a mineral or chemical sunscreen largely depends on your skin type, personal preference, and environmental considerations.
Neither type is universally better than the other; they offer different benefits and potential drawbacks. So, remember to read labels, do patch tests, and choose what works best for your skin and lifestyle. 
Conclusion
Overall, applying sunscreen is an important part of a comprehensive sun protection skincare routine. So, if you're wondering where to buy sunscreen in Germany, these products are all readily available online or in local stores. From protecting sensitive skin to battling oily skin, these sunscreens have you covered.
Finding the best sunblock in Germany may seem like a daunting task, given the myriad of options. Rest assured, these highly-rated sunscreens can cater to all types of skin, whether dry, oily, or acne-prone!