It's time to take control of what you're putting on your skin. Don't fret, though. We've got your back! In this article, we'll delve into the toxic skincare ingredients you should avoid and why?
In our pursuit of healthy and beautiful skin, it is crucial to be aware of the toxic ingredients that can potentially harm the skin and overall well-being. There are countless skincare products on the market, making it difficult to decide which ingredients are safe and which ones should be avoided.
This comprehensive guide aims to provide you with valuable insights into some of the most common toxic skincare ingredients that you should steer clear of. By avoiding these harmful substances, you can make informed choices and prioritize the health and vitality of your skin.
Toxic Skincare Ingredients for Every Skin Type
Skincare products often contain a variety of chemicals that can be potentially harmful to the skin and overall health. To minimize exposure to these harmful chemicals, it's important to read ingredient labels, choose products that are free from these substances, and opt for clean and natural skincare alternatives that prioritize safety and transparency. Some of the toxic skincare ingredients that are commonly used in different products are discussed below.
1- Parabens
Parabens are widely used chemical preservatives that can be found in a range of personal care products and household goods. From shampoos and soaps to skincare and beauty products, parabens are commonly added to extend the shelf life of the items. In recent studies, these chemicals have been linked to potential dangers.
It has been found that parabens mimic estrogen in the body, resulting in hormonal disruption. Research has linked paraben exposure to reproductive issues, hormone imbalance, and an increased risk of breast cancer.

From bcpp.org
When reading the ingredient list look out for the names Polyparaben, Propylparaben, Isobutylparaben, Butylparaben, and Methylparaben.
2- Phthalates
Phthalates are often used in skincare products to enhance fragrance and improve product texture. Phthalates are used in skincare to lubricate other ingredients. However, these chemicals have been associated with a range of health concerns. Phthalates, such as diethyl phthalate (DEP) and dibutyl phthalate (DBP), can disrupt the endocrine system, as endocrine disruptors, affecting the hormone system in humans, especially women. Reproductive and hormonal effects: Phthalates have been linked to DNA damage in sperm and adverse effects on organ function, immune system, and reproductive functioning.
The FDA is closely monitoring their effects so, stay vigilant and avoid products containing phthalates.

From FDA.com
3- Formaldehyde
Formaldehyde and formaldehyde-releasing preservatives (FRPs) are commonly found in various products. Formaldehyde is recognized as a known carcinogen by organizations such as the National Toxicology Program and the International Agency for Research on Cancer (IARC). In personal care products, formaldehyde can be absorbed through the skin, causing skin irritation and other adverse effects. Formaldehyde has been shown to induce dermatitis, even with short-term use.
Imidazolidinyl is often used in moisturizers, creams, and makeup products. Diazolidinyl this ingredient is used in a variety of skincare products. Quaternium-15 is found in many personal care items, including facial cleansers, body washes, and baby products.
It has been associated with cancer risks. Additionally, formaldehyde can cause skin irritations and allergic reactions in some individuals

From cancer.org
4- SODIUM LAURYL SULFATE (SLS) AND SODIUM LAURETH SULFATE (SLES)
Sodium lauryl sulfate (SLS) and Sodium laureth sulfate (SLES) are commonly used in many skincare products, but their potential toxicity is a cause for concern. SLS and SLES are surfactants that help create lather and foam in cleansers, shampoos, and body washes. Sulfates can cause irritation to the eyes and skin, Sulfates can strip away the natural oils from the hair and may also remove color from dyed hair, leading to premature fading.
However, research has indicated that these compounds can be harsh and irritating to the skin, causing dryness, redness, and inflammation, particularly in individuals with sensitive skin.
Furthermore, SLS and SLES can strip the skin of its natural oils, leading to a disrupted moisture barrier and potential long-term damage.
5- PARFUM OR SYNTHETIC FRAGRANCE
Parfum or synthetic fragrance is a commonly found ingredient in various skincare and cosmetic products, but its potential toxicity raises concerns among consumers. The term "parfum" on ingredient lists often represents a mixture of numerous undisclosed chemicals, making it difficult for consumers to know the exact components they are exposed to.
Many fragrance chemicals are linked to cancer, birth defects, hormone disruption, and other chronic health problems.

From bcpp.org
Synthetic fragrances have been linked to skin irritation, allergies, respiratory Issues and skin sensitivity in some individuals. These fragrances can penetrate the skin and disrupt hormonal balance, causing long-term health issues. Furthermore, some synthetic fragrances may contain phthalates, which are known endocrine disruptors. Many people choose fragrance-free or naturally scented skincare products to minimise potential risks, prioritizing transparency and safer alternatives for their skincare routines.
Look for terms like Fragrance, Perfume, Parfum, Aroma, or Essential oils on the label.
---
Toxic Skincare Ingredients for Sensitive Skin
When you have sensitive skin, it's important to be cautious about the ingredients you use in your skincare routine. Some ingredients can cause irritation, dryness, and other problems for people with sensitive skin. That's why it's crucial to avoid these specific ingredients and give your skin the extra care and attention it needs. By being aware of the ingredients to avoid or use in moderation, you can maintain a healthy and balanced skincare routine. Here, we will explore the skincare ingredients that people with sensitive skin should steer clear of.
1- Alcohol
Alcohol Alcohol, an organic compound distinct from the alcoholic beverages we consume, serves various purposes in skincare products. It acts as a preservative and helps create a lighter texture for smoother application. However, not all alcohols are created equal. Certain types of alcohol can lead to irritation, dryness, and other problems for sensitive skin. It's crucial to check product labels and opt for low concentrations of these ingredients, preferably towards the bottom of the list.
2- Essential Oils
Essential oils, derived from plants, are commonly used in skincare for their aromatic properties. While they offer various benefits and delightful scents, people with sensitive skin should be careful while using products containing essential oils. It's crucial to select products that are fragrance-free or specially made for sensitive skin. Instead of using essential oils as the sole source of fragrance, try out other natural toning ingredients such as rose water or aloe vera.
3- Chemical Sunscreen
Chemical sunscreens utilize chemical ingredients to create a protective barrier against harmful UV rays. However, individuals with sensitive skin may experience adverse effects due to the absorption of these chemicals into their skin. Chemical sunscreens can disrupt natural hormone production and potentially trigger allergic reactions. As a safer alternative, consider opting for zinc oxide-based sunscreens. These physical sunscreens create a barrier that effectively shields the skin from UV rays without the potential side effects of chemical counterparts.
4- Exfoliants
Getting rid of dead skin cells and refreshing your skin's look is important, and exfoliants can help with that. But if you have sensitive skin, you need to be careful when adding exfoliants to your skincare routine. Over-exfoliation can lead to irritation and strip the skin of its natural oils, causing further sensitivity. Instead of aggressive physical exfoliants like sugar or salt scrubs, consider milder options such as gentle chemical exfoliants like glycolic acid or salicylic acid.
---
Toxic Skincare Ingredients for Oily Skin
Certain ingredients can increase oily skin issues, leading to excess oil production and clogged pores. Here, we will highlight the key skincare ingredients that individuals with oily skin should avoid. By avoiding these ingredients and opting for suitable alternatives, you can achieve a shine-free complexion and can improve the overall health of your skin.
1- Petroleum Jelly
It is renowned for its moisturizing properties, it can create a heavy moisture barrier that blocks pores and aggravates oily skin. Instead of petroleum jelly, consider using alternatives like lightweight oils such as jojoba oil or squalane. These alternatives provide moisture without clogging pores, helping to control excess oil production.
2- Lanolin
Lanolin, a waxy oil derived from sheep's skin, is similar to the natural sebum produced by human skin. Even though it provides hydration, it may cause extra oil production in the skin that is already oily.
3- Alcohol
Contrary to popular belief, alcohol in skincare products is not always suitable for oily skin. While alcohol can have a drying effect, certain types can strip the skin of moisture, leading to increased oil production. Don't use toners or products that have alcohol in them. Instead, choose natural ingredients like rose water, aloe vera, or green tea.
4- Mineral Oil
Mineral oil, derived from various minerals, is often used as a moisturizer in skincare products. However, for individuals with oily skin, mineral oil can feel heavy and potentially contribute to pore congestion. Look for lightweight alternatives which provide adequate moisture without overwhelming the skin.
5- Beeswax
Beeswax, produced by honey bees, is commonly used in skincare to retain moisture and protect the skin from environmental stressors. However, for those with oily skin, beeswax can create a heavy barrier that feels thick and potentially clogs pores. Consider using alternatives such as soy wax, carnauba wax, or natural oils. These options provide similar benefits without weighing down the skin.
---
Toxic Skincare Ingredients for Dry Skin
If you have dry skin, selecting the right skin care products is crucial to maintain proper hydration and prevent further dryness. Some chemicals in skincare products can make dryness worse and cause irritation. Let's focus on the main ingredients that people with dry skin should avoid.
1- Alcohol
Alcohol can make dry skin even drier because it has drying properties. However, it's important to differentiate between regular alcohol and fatty alcohol. Fatty alcohols like Cetearyl alcohol and stearyl alcohol are good for the skin and can actually provide moisture. Instead of products containing regular alcohol, opt for natural toners suitable for all skin types, such as rose water, aloe vera, or green tea.
2- Salicylic Acid
Salicylic acid, commonly used to address various skin issues, can be highly effective but may also lead to dryness. Individuals prone to dry skin should be cautious and avoid products containing salicylic acid. Instead, consider alternative ingredients or consult with a dermatologist for suitable skincare options that address your specific concerns without causing excessive dryness.
3- Benzoyl Peroxide
Benzoyl peroxide, a chemical often found in face washes, creams, and acne treatments, can make your skin dry and irritated. For individuals with dry skin, it is best to steer clear of products containing benzoyl peroxide.
---
Skin Care Ingredients to Avoid during Pregnancy
During pregnancy, it's important to make informed decisions about the skincare products you use to ensure the safety of both you and your baby. Certain ingredients found in skincare products can be absorbed into your bloodstream, potentially causing harm to your little one. Here, we will highlight the key skincare ingredients to avoid during pregnancy.
1- Retinoids
Retinoids, stronger forms of Vitamin A, are typically available by prescription and used for various purposes, including anti-aging, oil reduction, pore unclogging, collagen production, and acne treatment. However, retinoids can be harmful to unborn children and should be avoided by pregnant women or those planning to conceive.
2- Chemical Sunscreen
Chemical sunscreens, while effective in creating a barrier against the sun's rays, can be easily absorbed into the skin, potentially posing risks during pregnancy. Instead, choose sunscreens that contain physical blockers like zinc oxide, which create a protective barrier without being absorbed into the bloodstream. Zinc oxide is considered a safer alternative for pregnant women.
---
What are Toxic Skincare Ingredients and How to Avoid Them?
Toxic skincare ingredients refer to substances that have the potential to cause harm to the skin, overall health, and the environment. These ingredients can be found in various skincare products. These may include substances like parabens, sulfates, formaldehyde releasers, synthetic fragrances, phthalates, and certain types of silicones. While skincare products are intended to nourish and enhance the skin, the presence of toxic ingredients can have adverse effects, leading to skin irritations, allergic reactions, hormonal disruptions, and even long-term health risks.
Read Ingredient Labels
To avoid toxic skincare ingredients, it's crucial to read and understand the ingredient labels of skincare products before purchasing. Look for products that clearly state they are free from harmful chemicals, are fragrance-free or use natural fragrances, and have transparent ingredient lists. Familiarize yourself with the commonly used toxic ingredients to help identify and avoid them.
Choose Clean and Natural Products
Opt for skincare products that prioritize clean and natural ingredients. Look for products that are formulated with plant-based extracts, and organic ingredients, and are free from synthetic fragrances, parabens, sulfates, and other harmful chemicals. Consider products that are certified organic or have received endorsements from reputable organizations focused on safety and sustainability.
Look for certifications
Furthermore, it is important to consider products that have obtained certifications from reputable organizations. Certifications such as USDA Organic, COSMOS Organic, and EWG Verified not only provide assurance but also indicate that the products meet stringent standards and are devoid of toxic ingredients.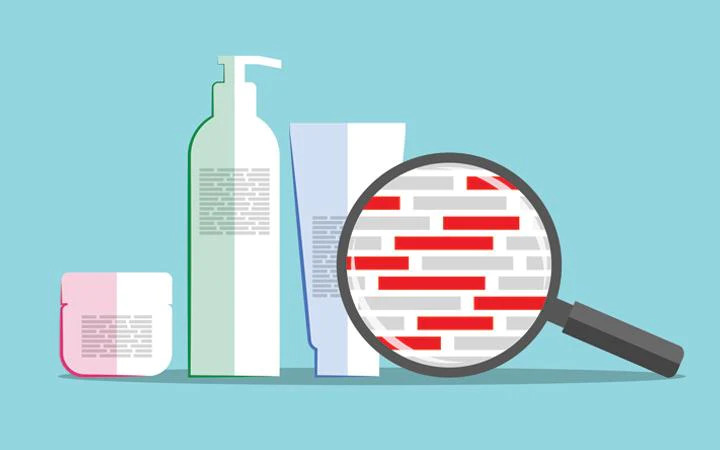 Related Articles:
The Best Skincare Ingredients You Need to Know About