When it comes to achieving a healthy and glowing complexion, knowing how to properly layer skincare products is crucial. Layering skincare products ensures that each product can effectively penetrate the skin and deliver its benefits. Moreover, by following a strategic skincare routine, you can optimize the effectiveness of your products and address specific skin concerns more efficiently.
This comprehensive guide will delve into the step-by-step process of layering skincare products. This will provide valuable insights to help you establish a personalized routine tailored to your skin's unique needs. Whether you are a skincare enthusiast or a novice looking to enhance your daily regimen, this article will help you with the knowledge to maximize the potential of your skincare arsenal.
Why is the Layering of Skincare Products Important?
The order in which you apply your skincare products can greatly influence their absorption, efficacy, and overall results. Moreover, each product is formulated with specific ingredients and tailored to address particular skin concerns. By applying them in the appropriate order, you can guarantee that each product functions at its best and doesn't hinder the absorption or effectiveness of other products. Therefore, to achieve optimal results in your skincare routine, it is crucial to follow a specific order when layering your products.
Skincare professionals widely agree on the recommended sequence, which begins with applying the thinnest skin care products first. This includes serums, essence toners, and other liquid-based products. After these, thicker consistency products should be applied, with moisturizer being the final step.
Step-by-Step Guide on How to Apply Skincare Products
Let's dive into a step-by-step guide on how to layer your morning and evening skincare products for a glowing complexion.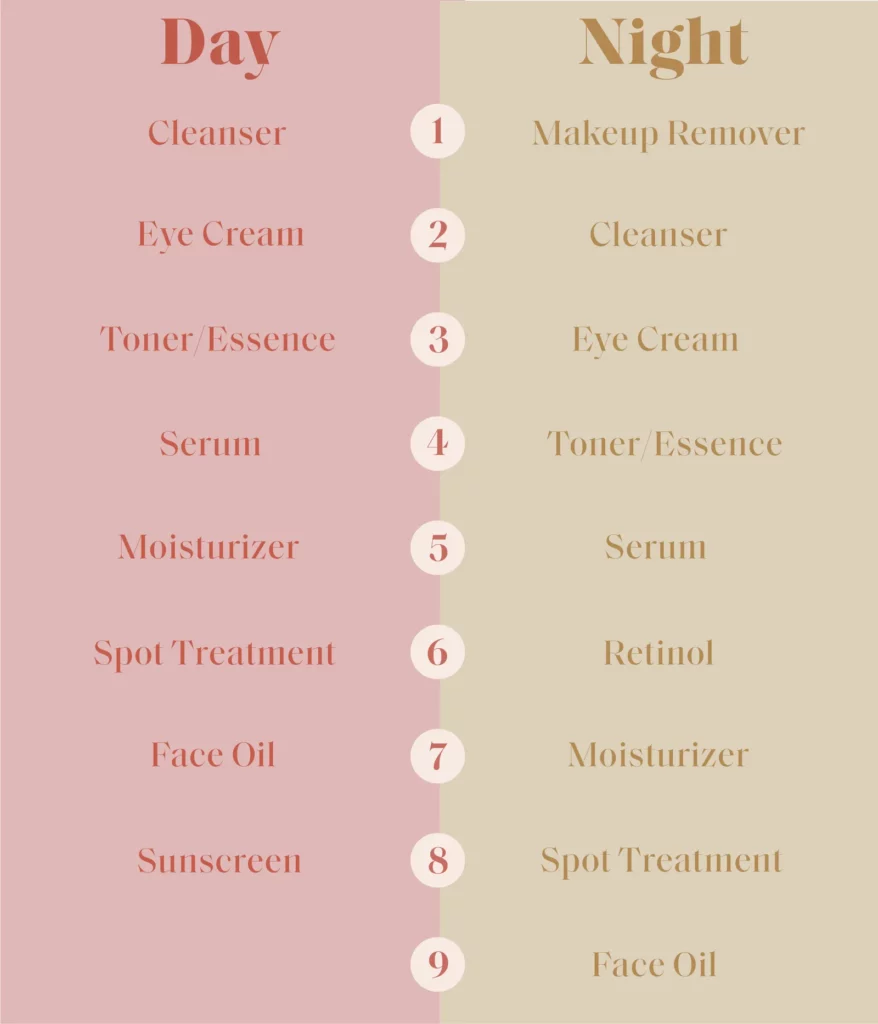 1- Makeup Remover or Cleansing Oil
Follow this Step: At Night Only
Makeup remover and cleansing oil have crucial roles in any skincare routine as they effectively eliminate makeup and impurities from the skin. These products actively dissolve even the most stubborn makeup, including waterproof mascara and long-lasting foundation, while preserving the skin's natural moisture. By utilizing makeup remover or cleansing oil, you actively ensure the thorough removal of every trace of makeup, allowing your skin to breathe and preventing pore congestion.
Bioderma Sensibio H2O Micellar Water stands out as a highly acclaimed makeup remover that provides effective cleansing, even for waterproof makeup. This gentle option is suitable for sensitive skin too.
DHC Deep Cleansing Oil effectively removes makeup, dirt, and impurities from the skin. This oil is made up of nourishing and hydrating ingredients such as olive oil, vitamin E, and other botanical extracts.
2- Cleanser
Follow this Step: Morning & Night
To effectively start your skincare routine, begin by cleansing your face with a gentle facial cleanser. This step actively removes dirt, excess oil, and impurities, creating the perfect foundation for optimal product absorption.
The Youth To The People Superfood Cleanser not only cleanses but also nourishes the skin. This exceptional cleanser incorporates a blend of cold-pressed superfood extracts, including kale, spinach, and green tea, to provide essential vitamins and antioxidants that benefit the skin.
Glow Recipe Blueberry Bounce Gentle Cleanser is specifically designed to refresh and cleanse the skin. It combines the power of blueberry extract, hyaluronic acid, and gentle alpha hydroxy acids. These ingredients work together to eliminate dirt, oil, and impurities from the skin which will leave the skin rejuvenated.
3- Toner
Follow this Step: Morning & Night
Toning is important for balancing the skin's pH levels and removing any remaining impurities after cleansing. To ensure optimal results, it is recommended to select an alcohol-free toner or essence that specifically caters to your skin type. Apply it gently using a cotton pad or by softly patting it onto your face with your fingertips.
Klairs Supple Preparation Unscented Toner goes beyond toning by deeply hydrating the skin, hence improving the absorption of subsequent skincare products. This remarkable toner is enriched with key ingredients such as hyaluronic acid, beta-glucan, and centella extract, which provide hydrating and nourishing properties to the skin.
The Pyunkang Yul Facial Essence Toner is renowned for its anti-inflammatory and antioxidant characteristics. This toner aims to provide intense hydration to the skin while enhancing its elasticity and texture.
4- Eye Cream
Follow this Step: Morning & Night
Give special attention to the delicate skin around your eyes. Use your ring finger to gently tap and apply a small amount of eye cream or gel onto the orbital bone. Eye creams effectively reduce puffiness, dark circles, and fine lines while providing essential moisture to the area.
IT Cosmetics Confidence In An Eye Cream This eye cream is infused with powerful ingredients such as collagen, hyaluronic acid, and peptides, all working together to deeply hydrate, firm, and smooth the eye area skin. The luxurious formula helps to reduce the appearance of fine lines, wrinkles, and puffiness, while also diminishing the look of dark circles.
The Tarte Cosmetics Maracuja C-Brighter Eye Treatment stands as another top-rated eye cream designed to target signs of aging around the eyes. This eye treatment is enriched with maracuja oil, vitamin C, and other beneficial ingredients. it offers brightening, hydrating, and rejuvenating effects to the under-eye area.
5- Serum
Follow this Step: Morning & Night
Serums are packed with beneficial ingredients that help to protect the skin from environmental damage, reduce inflammation, and provide anti-aging benefits. Seek out for serums that contain vitamin C, vitamin B5, vitamin E, or green tea extract, and gently massage a few drops onto your face and neck.
Drunk Elephant B-Hydra Intensive Hydration Gel by Drunk Elephant
provides intense hydration to the skin. This gel formula is lightweight and easily absorbs into the skin, leaving it feeling refreshed and moisturized. Infused with a blend of pro-vitamin B5, watermelon rind extract, and sodium hyaluronate crosspolymer, this hydrating gel helps to improve skin texture, promote elasticity, and restore a healthy glow.
Sunday Riley Good Genes serum is known for its transformative effects on the skin. Packed with potent ingredients such as lactic acid, licorice, and lemongrass, Good Genes work to exfoliate dead skin cells, minimize the appearance of fine lines and wrinkles, and improve overall skin texture. Its powerful formula helps to brighten dull skin, even out skin tone, and promote a smoother complexion.
6- Retinol
Follow this Step: At Night
Retinol is an important form of vitamin A that plays a key role in boosting collagen production and speeding up the renewal of skin cells. Whether you want to deal with breakouts or reduce fine lines, retinol is a valuable addition to your skincare routine. However, it's essential to know that retinol can cause skin irritations, so beginners should be careful when adding it to their routine.
Usually, retinol is applied after serums and before moisturizer. If you want to minimize the potential side effects of retinol, you can try buffering. Retinol Buffering involves mixing the retinol with your moisturizer and applying them together in one step. This method allows you to enjoy the benefits of retinol while reducing the chances of irritation. You can also apply retinol over your moisturizer.
The Paula's Choice 1% Retinol Treatment is a vegan retinol product, renowned for its potent formula and effective results. With a substantial concentration of retinol, it aids in boosting collagen production and promoting skin renewal.
The Drunk Elephant A-Passioni Retinol Cream contains 1% retinol, complemented by a blend of nourishing and soothing ingredients. It specifically targets signs of aging such as fine lines, wrinkles, and uneven skin texture. This cream stimulates skin cell turnover, enhances collagen production, and improves overall skin radiance.
7- Moisturizer
Follow this Step: Morning & Night
Moisturizing is a very important part of any skincare routine. It actively hydrates and nourishes the skin, and prevents dryness. It's essential to choose a moisturizer that suits your skin type and apply it evenly to your face and neck using upward strokes. Let the moisturizer absorb into your skin before moving on to the next step.
The Youth to the People Adaptogen Deep Moisture Cream stands as a highly esteemed moisturizer, offering intense hydration and nourishment to the skin. This cream is thoughtfully formulated with a blend of adaptogenic herbs, peptides, and plant-based ingredients, working together to promote a healthy and radiant complexion.
The Drunk Elephant Lala Retro Whipped Moisturizer with Ceramides. Known for its nourishing and hydrating properties, this moisturizer is enriched with a combination of plant-based oils, ceramides, and antioxidants. It replenishes and protects the skin, leaving it revitalized and moisturized.
8- Treatment Products
Follow this Step: At Night
This is the time to incorporate any treatment products, such as serums or treatments that address specific concerns like acne, hyperpigmentation, or aging. Apply these products sparingly to the targeted areas and massage them gently into the skin.
Paula's Choice 2% BHA Liquid Peeling This liquid peeling solution effectively unclogs pores, gently removes dead skin cells, and helps to reduce blackheads and breakouts. The lightweight and non-abrasive formula is suitable for all skin types and works to refine the skin's texture, leaving it smoother and more radiant. The 2% BHA concentration helps to clarify the skin, minimize the appearance of pores, and improve overall skin tone.
The Murad Rapid Relief Acne Spot Treatment is a highly effective solution for targeting and treating stubborn acne breakouts. Formulated with potent ingredients, this spot treatment works quickly to reduce redness, inflammation, and the size of blemishes.
9- Face Oils
Follow this Step: Morning & Night
These nourishing oils offer multiple benefits for the skin. In the morning, face oils help to moisturize and protect the skin from environmental aggressors throughout the day. They can also provide a smooth base for makeup application. In the evening, face oils work effectively during the skin's overnight repair process, providing deep hydration and supporting the skin's natural regeneration. When selecting a face oil, opt for one that suits your skin type and concerns, such as jojoba oil for balancing oily skin or rosehip oil for improving skin tone and reducing the appearance of scars.
Cliganic Jojoba Oil This pure and organic oil is extracted from the seeds of the jojoba plant, known for its exceptional moisturizing and nourishing properties. Jojoba oil closely resembles the skin's natural sebum, making it suitable for all skin types, including sensitive and acne-prone skin. It absorbs quickly, leaving the skin feeling soft and hydrated without a greasy residue.
Drunk Elephant Virgin Marula Luxury Facial Oil This facial oil is derived from the cold-pressed kernels of the marula fruit, ensuring the preservation of its natural properties. Known for its antioxidant-rich and deeply hydrating qualities, the marula oil in this product works to nourish and replenish the skin, promoting a healthy and radiant complexion.
10- Sun Protection
Follow this Step: In the Morning
To keep your skin safe from harmful UV rays and prevent premature aging, sunspots, and skin damage, it's important to actively protect it. Apply a broad-spectrum sunscreen with an SPF of 30 or higher, making sure to cover your face, neck, and any exposed areas generously. If you're spending time outdoors, remember to reapply every two hours.
Beauty of Joseon Sunscreen is a highly regarded product that combines skincare and sun protection in one. This sunscreen is designed to shield the skin from harmful UV rays while providing additional skincare benefits. Infused with rice extract, natural ingredients such as green tea, centella asiatica, and niacinamide, this sunscreen not only protects against sun damage but also nourishes and soothes the skin.
Sun Bum Original Sunscreen Face Lotion SPF 50 contains a combination of chemical sunscreen agents such as avobenzone, homosalate, octinoxate, and octisalate. These agents work together to absorb UV rays and keep your skin safe.
FAQs:
Q1: Can I skip any steps in the layering process?
While the basic steps are crucial, you can adapt the routine based on your needs. However, it's generally recommended to follow the suggested order for optimal results.
Q2: How long should I wait between product applications?
Ideally, give each product a minute or two to absorb before moving on to the next. This allows proper penetration and avoids product pilling.
Q3: Can I layer too many products?
It's important to listen to your skin and not overwhelm it with an excessive number of products. Stick to essentials and give your skin time to adjust before introducing new products.
Additional Tips for an Effective Skincare Routine
Exfoliation: Include exfoliation in your routine once or twice a week to remove dead skin cells and promote cell turnover.
Masks: Incorporate face masks once or twice a week to address specific skin concerns such as hydration, brightening, or deep cleansing.
Spot Treatments: If you have specific skin concerns such as acne or dark spots, use targeted spot treatments before applying serums and moisturisers.
Nighttime Routine: In the evening, follow the same steps mentioned above, but skip the sunscreen and replace it with a nourishing night cream or sleeping mask.
Patch Test: Before incorporating any new product into your routine, perform a patch test to check for any potential allergies or adverse reactions.