Summer days are full of fun, sunshine, and…sunburns? Not on our watch! While we all want our children to bask in the great outdoors, their sensitive skin needs protection from those pesky UV rays. With so many options to choose from, finding the best sunscreen for kids in Germany can feel like searching for a needle in a sunflower field. But fret not, we've got your back – and your kids' skin.
We've assembled a list of the best sunscreens for your kiddos available right here in Germany! So, without further ado, let's begin!
Mineral vs Chemical Sunscreens
Before diving in, let's clear up a burning question: mineral or chemical sunscreen?
Mineral sunscreens act like a shield, reflecting UV rays off the skin. They're less likely to irritate sensitive skin, making them a top pick for kids, particularly those with skin conditions like eczema.
Meanwhile, Chemical sunscreens absorb UV rays and convert them into heat. These can be less thick and easier to apply but might cause irritation in some kids.
The 8 Best Sunblocks for Children in Germany
Now, onto the good stuff. Let's explore the best sunscreen for dry, oily, or acne-prone skin in Germany – no child left behind!
Let your baby step into the sunny side of life, worry-free with Babo Botanicals. It's a powerhouse of protection in a petite package.
Distinctive Features: This mineral sunscreen, besides being fragrance-free and water-repellent, boasts an ultra-sheer and light texture. Its 100% zinc oxide active ingredient guarantees a broad spectrum SPF 50 coverage, making it a safe sunscreen for kids.
Pros: The cream is ultra-light and water-repellent, providing excellent sun protection. Being a mineral sunscreen, it's also perfect for sensitive and eczema-prone skin.
Cons: It's a bit on the pricier side and can leave a whitish cast, a common trait among mineral sunscreens.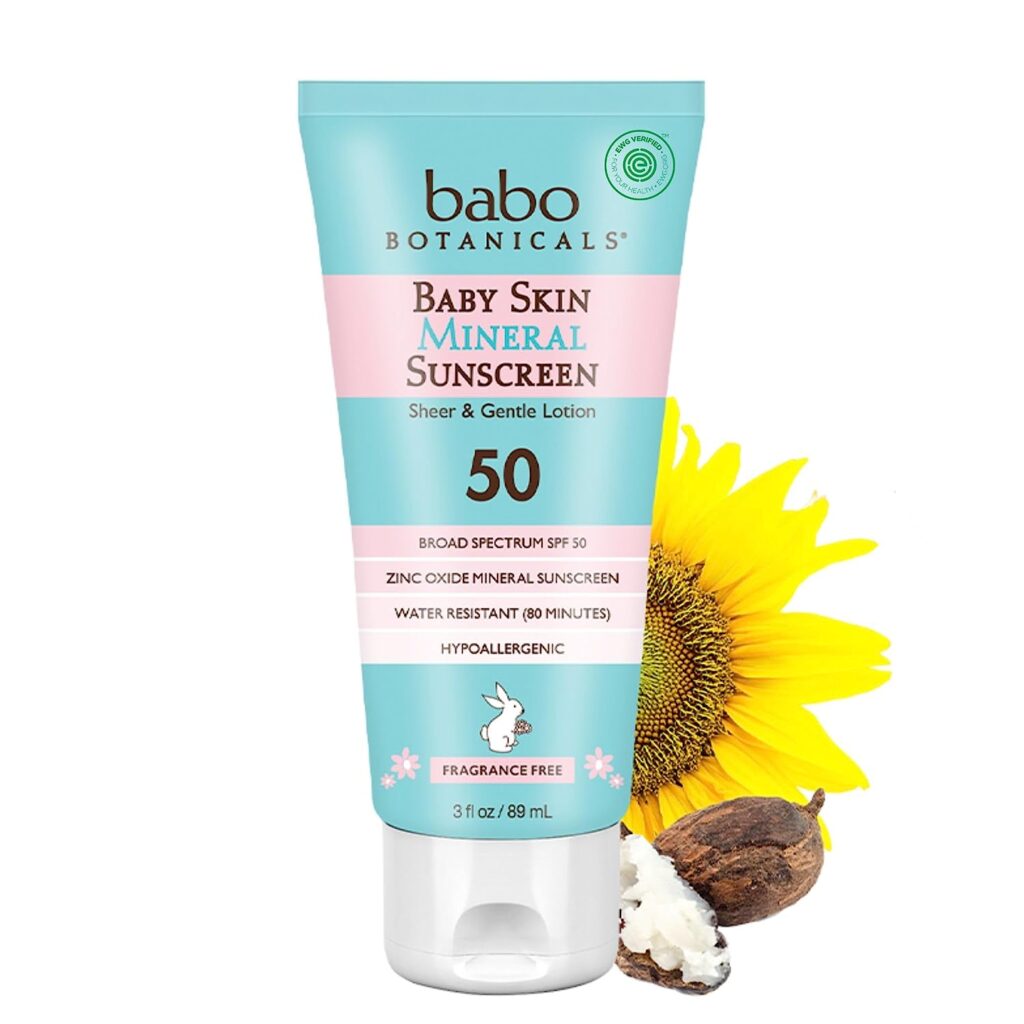 For your little one's delicate skin, Mustela brings a layer of loving care. This sunscreen offers SPF 50+ for both face and body, providing broad protection.
Distinctive Features: The cream is suitable for both the face and body, making it a versatile option. It offers very high SPF protection, making it an excellent choice for those sunny summer days.
Pros: It provides broad-spectrum protection and is suitable for both the face and the body. It is also water-resistant, making it perfect for beach or pool days.
Cons: Those with fragrance sensitivity should note that it's not unscented. Also, the formula can feel a bit heavy on very hot days.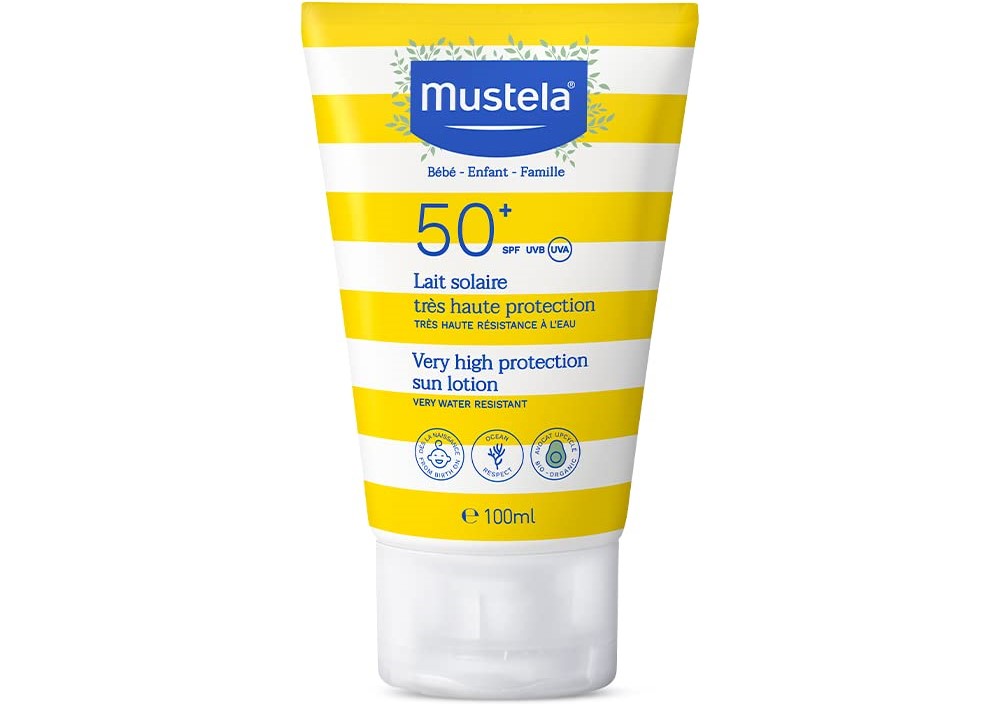 If your child's idea of fun is a sandy frolic, you need sunscreen as robust as Garnier Ambre Solaire Kids. This sand-repellent sunblock isn't one to shy away from a sandy challenge.
Distinctive Features: This SPF 50+ spray is waterproof and notably, sand repellent. This innovative anti-sand feature ensures the sunscreen doesn't stick to the sand, making it more comfortable for your kids.
Pros: The spray format allows easy application, and it offers a high level of sun protection. The waterproof and anti-sand features make it a beach day essential.
Cons: It's a chemical sunscreen, which some parents may prefer to avoid. Also, the spray may be a bit difficult to control on windy beach days.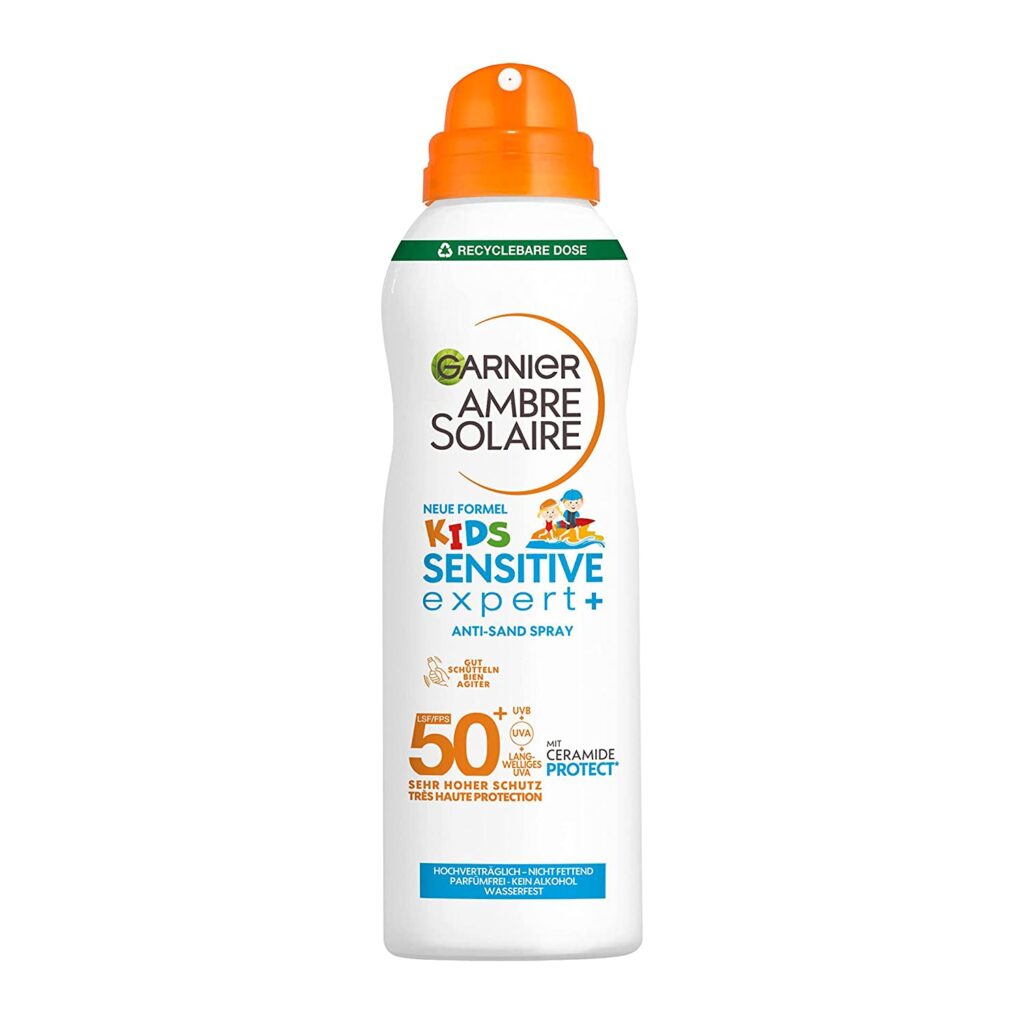 Thinkbaby Sunscreen is a trusty guardian angel for your child's skin, providing robust SPF 50+ protection.
Distinctive Features: This sunscreen is mineral-based, making it a safe sunscreen for kids even with skin conditions like eczema. It offers an excellent sun protection factor, which is SPF 50+.
Pros: It's a mineral sunscreen, perfect for sensitive skin types. The high SPF offers robust protection, and the sunscreen is water-resistant for up to 80 minutes.
Cons: As a mineral sunscreen, it can leave a white cast, and it's a bit more expensive than some of the other options.

For those mini-mes dealing with allergies, Ladival Children's Sun Protection Gel is like a gentle force-field against the sun's harmful rays.
Distinctive Features: This SPF 30 sunscreen is fragrance-free and devoid of any colorants or preservatives, making it an excellent choice for sensitive and allergy-prone skin.
Pros: Its allergy-friendly composition and water-resistant properties make it a winner for parents seeking mild, yet effective, sun protection for their kids.
Cons: The lower SPF might not be ideal for all-day sun exposure, and gel consistency might feel sticky on some skin types.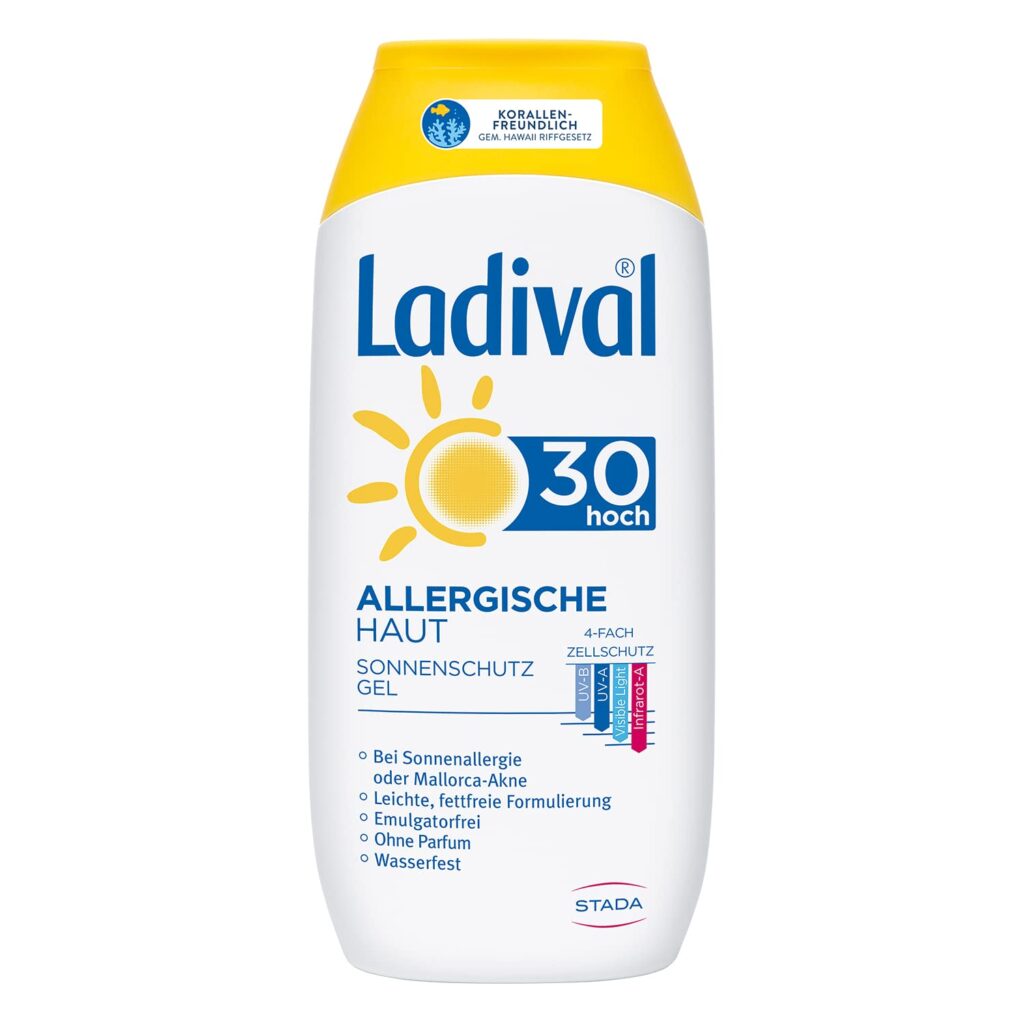 If you want to join the green skincare revolution, Eco Cosmetics Sun Cream is your accomplice, safeguarding your kids' skin organically.
Distinctive Features: This SPF 50 sunscreen is organic and specifically designed to be gentle on your baby's skin.
Pros: High SPF, natural ingredients, and eco-friendly. Ideal for parents seeking an organic, high-protection option.
Cons: It's one of the more expensive sunscreens on the list and may leave a white cast due to its mineral base.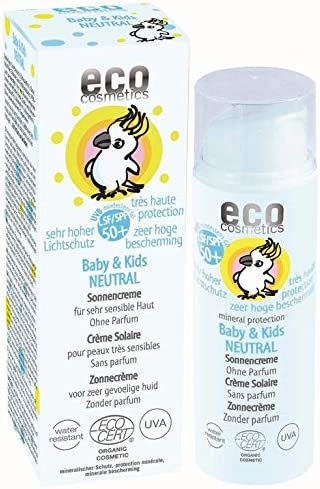 If there's a brand that knows skincare, it's Nivea. Their Sun Kids Sensitive Protect & Care Sun Cream is a guardian angel for sensitive little sunbathers.
Distinctive Features: Nivea's Sun Cream boasts SPF 50+ and is particularly designed for sensitive children's skin.
Pros: Besides offering superior sun protection, it's extra waterproof, perfect for those beach days or impromptu sprinkler runs.
Cons: Despite being tailored for sensitive skin, some users reported that it could be a bit heavy, which may not be ideal for extremely hot days.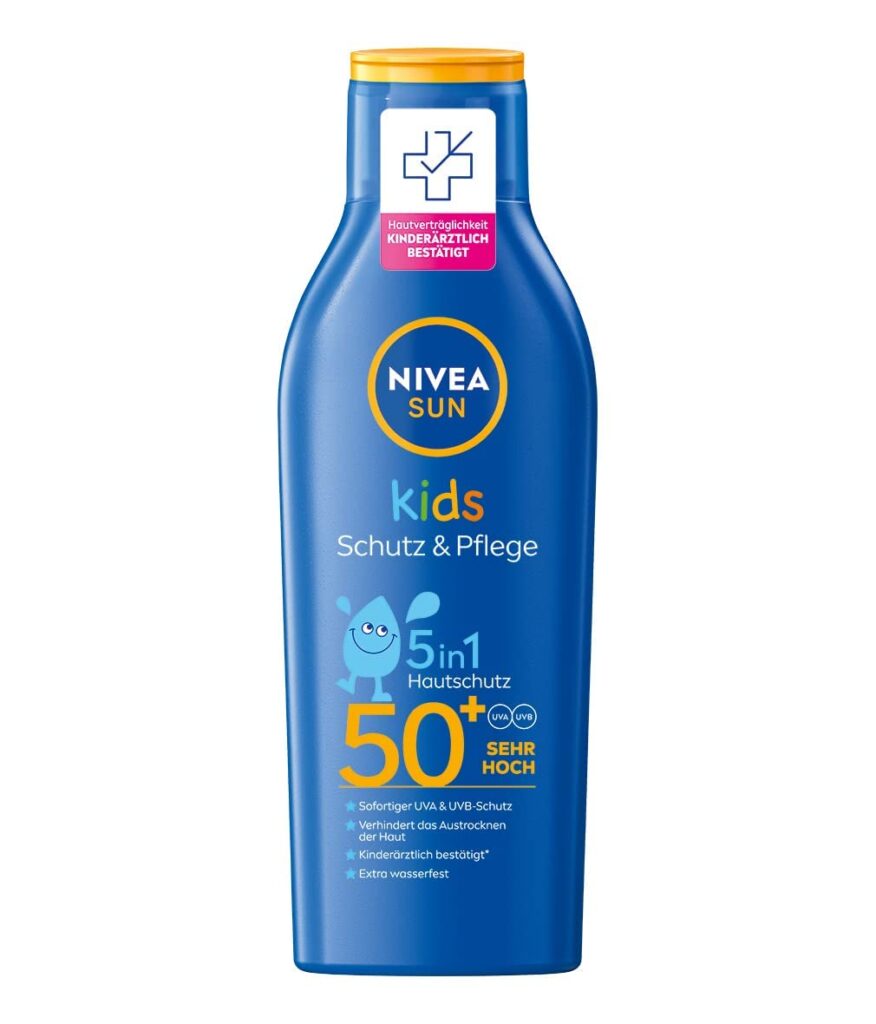 Last, but certainly not least, ISDIN Fotoprotector Mineral Baby Pediatrics Sun Cream is a highly effective mineral sunscreen, specifically developed for the tender skin of children and babies.
Distinctive Features: This sunscreen is 100% mineral-based with an SPF 50 rating, providing a high level of sun protection.
Pros: It's lightweight, making it perfect for daily use, and suitable even for the smallest members of the family.
Cons: As with most mineral sunscreens, it can leave a bit of a white cast on the skin, which some kids might not like.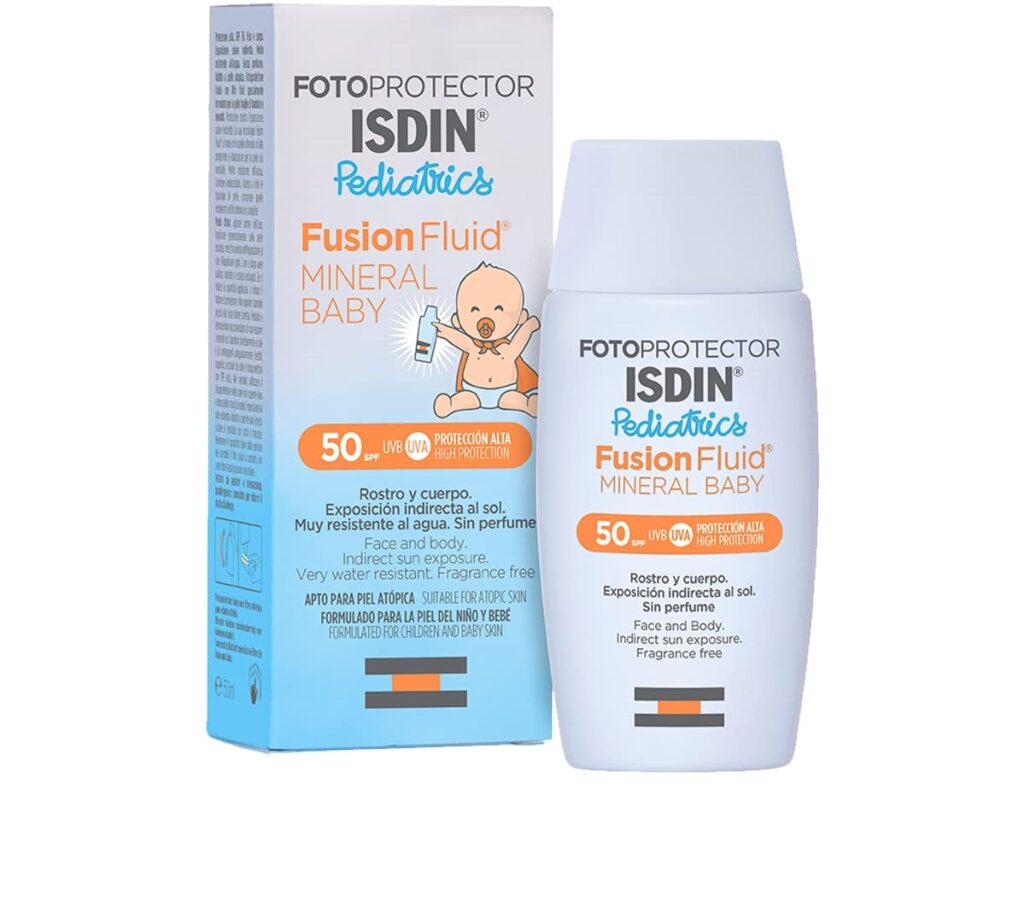 Sunscreens for Kids with Different Skin Conditions
Children's skin is delicate, and if your child has a skin condition like eczema, it's crucial to ensure you're choosing the right sunscreen.
Skin conditions can be aggravated by the sun, making protection a non-negotiable. Here's how to ensure you're selecting a suitable sunscreen:
Sensitive Skin Formula: Look for sunscreens specifically designed for sensitive skin. These products usually leave out potentially irritating ingredients like harsh chemicals and fragrances and are formulated using the finest, hypoallergenic ingredients.
Broad-Spectrum Protection: Ensure the sunscreen offers broad-spectrum protection, safeguarding against both UVA and UVB rays.
Mineral-Based: Mineral sunscreens are often gentler on sensitive skin and less likely to cause a reaction.
Water Resistance: If your child is going swimming or sweating, a water-resistant formula will stay put longer.
Patch Test: Always do a patch test with a new sunscreen to ensure it doesn't cause a reaction.
Top 3 Recommended Sunblocks for Kids with Skin Problems
Neutrogena Pure & Free Baby Sunscreen SPF 50: This Purescreen technology-based sunscreen is specifically designed for sensitive skin. It's fragrance-free and hypoallergenic, providing reliable protection without harsh ingredients.
Babo Botanicals Clear Zinc Sunscreen Lotion SPF 50: This sunscreen is not only gentle but also contains soothing organic ingredients. It's hypoallergenic, fragrance-free, and ideal for kids with skin conditions. The product boasts excellent reviews and is available in Germany.
Remember, even the best sunscreens should be used alongside other sun-protective measures, like seeking shade during peak sun hours and wearing sun-protective clothing.
Vegan and Cruelty-free Sunscreen for Kids
For those searching for sunscreens that are not only effective but also kind to our furry friends, we've got you covered. Here are some of the best vegan and cruelty-free sunscreens for kids in Germany:
Sun Bum Original SPF 50 Sunscreen Lotion: This vegan and cruelty-free sunscreen from Sun Bum provides broad-spectrum SPF 50 protection and is water-resistant for up to 80 minutes. It's formulated to protect those of us who live and love in the sun. It's a bit pricier, but it's a small price to pay for ethical peace of mind.
Badger – SPF 30 Kids Sunscreen Cream: This natural, mineral sunscreen provides broad-spectrum protection and is water-resistant for up to 40 minutes. It's also biodegradable, cruelty-free, and safe for coral reefs. It does have a strong scent, which some kids might not like, but it's a safe bet for eco-conscious parents.
Conclusion
Choosing the right sunscreen for your kid can be as tricky as convincing them to wear it, but with this list, you're well-armed to make a great choice.
So slather them up, and let them loose for a summer of fun under the German sun!
Read More
The Best Sunscreens Available In Germany You Need to Know About