In the pursuit of that perfect, sun-kissed glow, many have turned to self-tanners as a quick and easy solution. But with so many options out there, how do you choose the right one for your skin type and desired shade?
This guide is here to walk you through ten of the best self-tanners available in Germany, focusing on their key features, pros and cons, and the benefits of their ingredients.
From lotions to sprays, we have something for everyone. So, whether you're a fan of deep bronze or a subtle glow, prepare to meet your match!
Top 10 Self-Tanners for Face and Body in Germany
Here are the following products that you shouldn't miss out on: 
This product boasts several advantages that make it a preferred choice for many. Firstly, the organic and natural ingredients in the formulation ensure a safe and gentle application, minimizing the risk of skin irritation. Additionally, its fast-drying formula saves time and prevents any unwanted streaks, resulting in a flawless tan that lasts for days.
Pros:
Vegan-friendly and cruelty-free product
Contains shea butter and aloe vera acting as a moisturiser
Pleasant scent
Cons:
Some users might find the lotion's consistency thicker
The tan might also fade more rapidly for those with oilier skin types
On the pricier side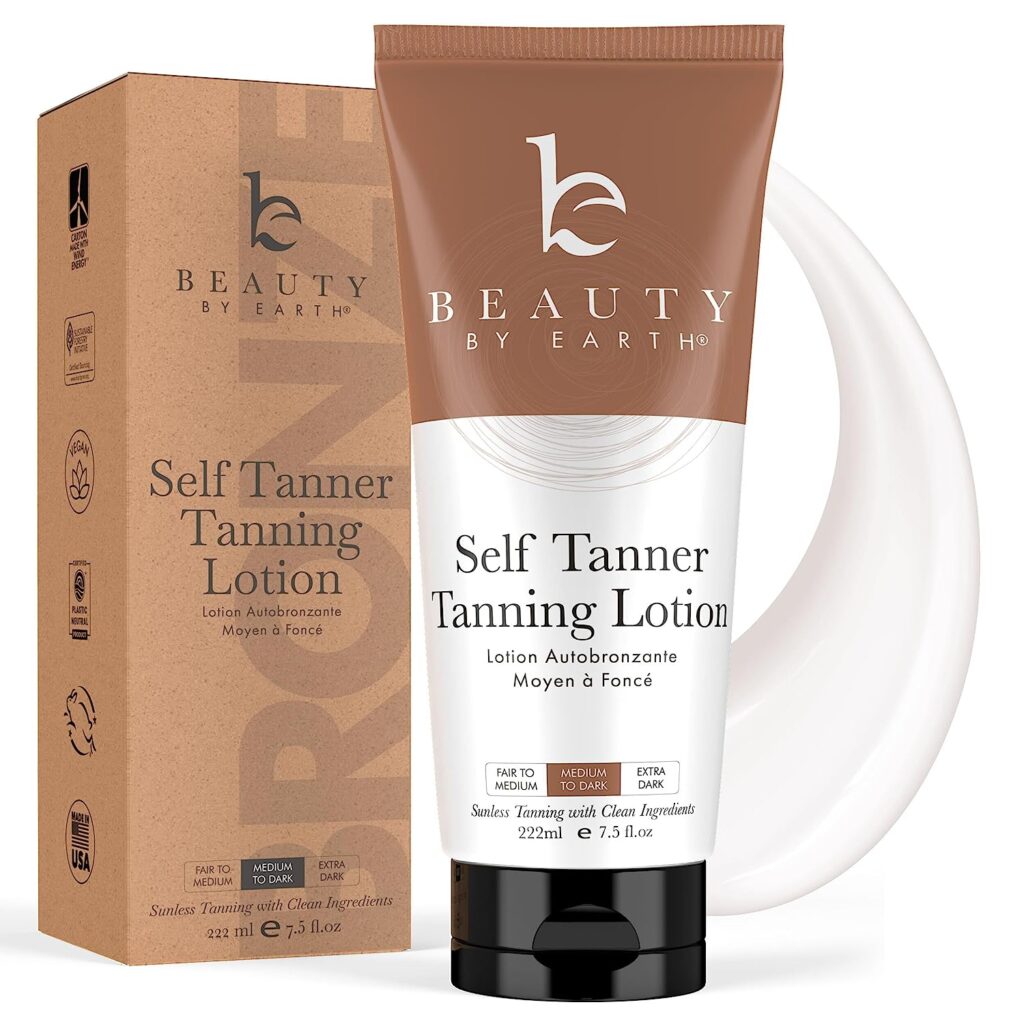 Take your tanning game to the next level with Byrokko Shine Brown Premium Tan Acceleration Cream. Packed with 100% natural ingredients such as carrot oil, virgin olive oil, walnut oil, and cocoa butter, this cream enhances your natural tan while providing a moisture surge to your skin.
It's a luxurious tanning and skincare experience combined into one!
Pros:
All-natural, skin-nourishing ingredients
Enhances and accelerates tanning
Hydrates skin while tanning
Cons:
Requires sun exposure for best results
Not suitable as a standalone tanner
This exceptional self-tanning mousse offers a completely natural-looking tan that lasts for an extended period. Infused with nourishing moisturizers, the light mousse pampers your skin while ensuring your tan stays vibrant. Its silky texture makes the process effortless, as the mousse glides smoothly onto your skin. Quick drying and even color distribution ensure your skin gains a beautiful tan with ease.
Pros:
Offers a risk-free approach to a golden tan without exposure to harmful UV rays
The easy-to-use formula offers a hassle-free tanning experience
Enriched with hydrating ingredients
Cons:
On the pricier side
Some users report a temporary self-tanner scent
Bring home the golden hues of the Australian sun with this sun protection spray from Australian Gold. It's an innovative 2-in-1 product that combines sun protection with a bronzer, giving you an instant tan while shielding your skin with SPF 30. 
This sun protection spray combines bronzing powders for an immediate glow, while active ingredients like Aloe Vera, Vitamin E, and Native Australian Acacia Extract soothe and hydrate your skin. Along with the Acacia Extract, unique to Australian Gold, is packed with antioxidants that protect your skin from environmental damage.
With its easy-to-use spray application, achieving a beautiful tan has never been easier!
Pros:
SPF 30 for solid sun protection
Bronzing effect for an instant glow
Easy spray-on application
Cons:
Can be a bit sticky upon application
The bronzer may stain clothing

When convenience meets efficiency, we get Garnier's Self Tanning Spray. This easy-to-use, spray-on tanner provides an evenly spread, natural-looking tan that lasts. And let's not forget its amazing ingredients, i.e., DHA, coupled with Erythrulose, a natural sugar that provides a gradual tan. 
It also contains apricot kernel oil, which is known for its moisturizing and nourishing properties, thus keeping your skin healthy while you tan. Its versatility shines through as it can be used on both your face and body, giving you a consistent and unified tan all over.
Pros:
Easy to apply, even on hard-to-reach areas
Long-lasting results
Suitable for both face and body
Cons:
Has a distinctive scent that might not appeal to everyone
Requires careful blending to avoid streaks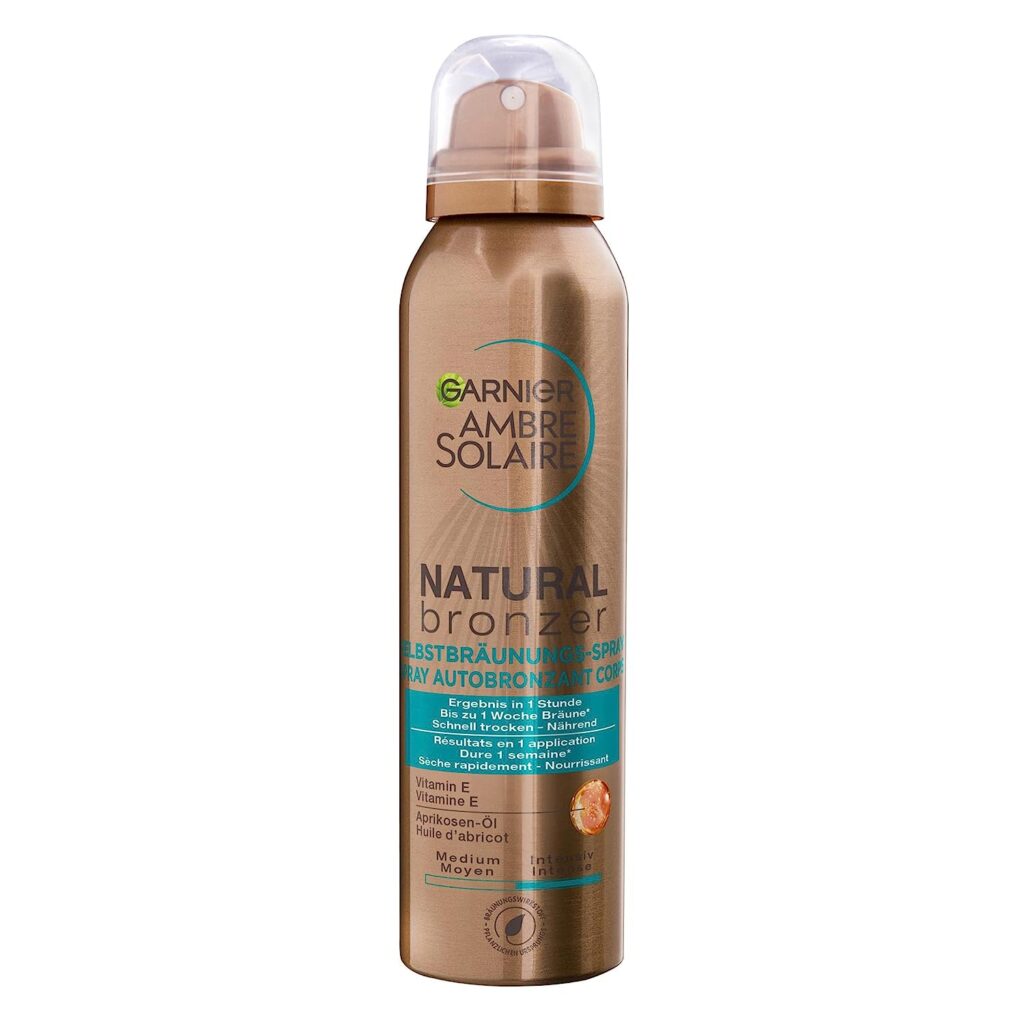 Enhance your sun-kissed glow safely with the Piz Buin Tan and Protect Intensifying Lotion. This dual-action product intensifies your natural tan while offering SPF 15 protection against the sun.
Moreover, it contains Melitane, which can stimulate the production of melanin in your skin, thereby accelerating the tanning process. It also contains Vitamin E for its antioxidant properties and Glycerin, which helps retain moisture in the skin. It's perfect for those who love the sun but also care about protecting their skin from harmful UV rays!
Pros:
Offers SPF 15 sun protection
Enhances tanning under the sun
Hydrating formula
Cons:
SPF may not be high enough for those with fair skin or those prone to sunburn
Requires sun exposure for best results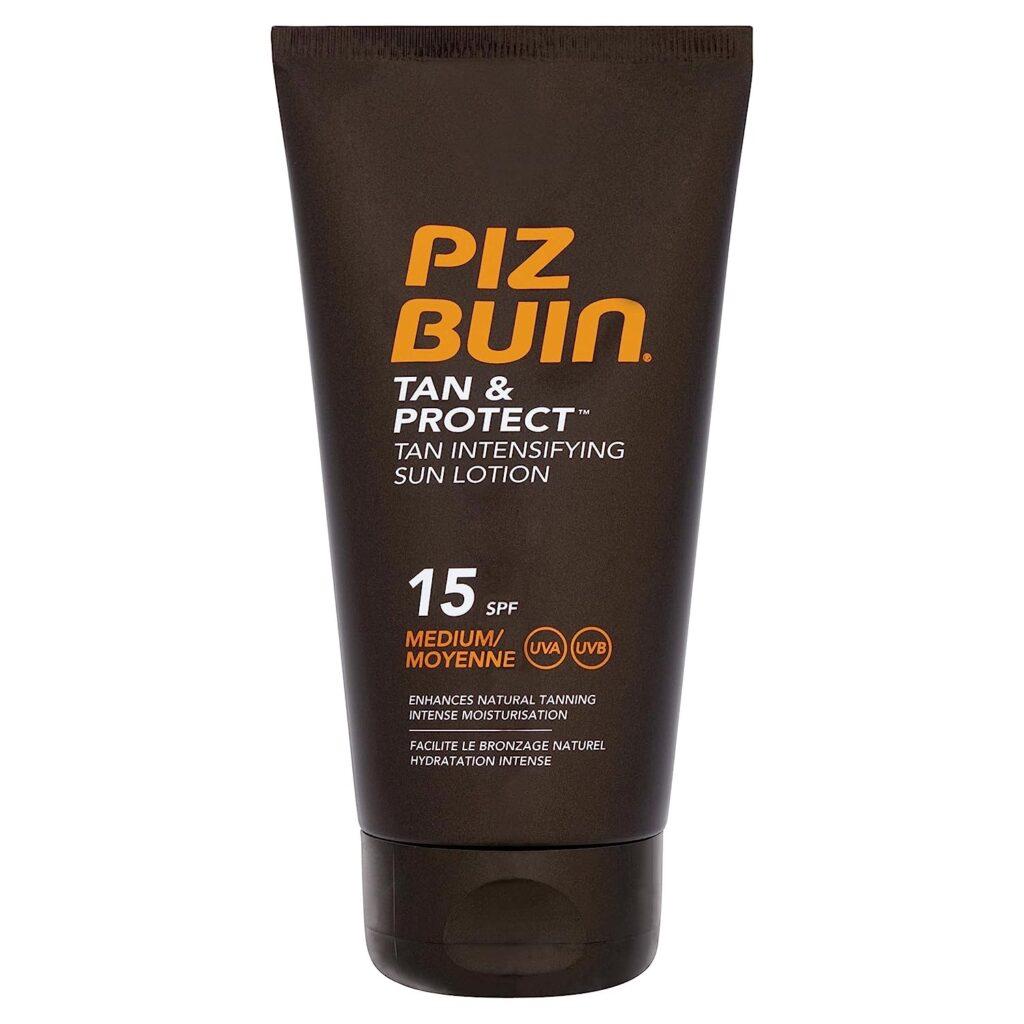 Not just a self-tanner, the NIVEA SUN sun spray doubles up as a sunscreen, offering protection against the sun's harmful rays. It is designed to provide a gradual tan, allowing you to build up to your desired shade while keeping your skin protected with SPF 30.
Apart from DHA, the active ingredient for tanning, NIVEA Sun Spray also contains Vitamin E for its antioxidant properties and Glycerin for hydration. It's a balanced formula that tans, protects, and cares for your skin.
This product is an all-rounder for those sunny beach days!
Pros:
Provides SPF 30 protection
Delivers a subtle, gradual tan
Easy to apply
Cons:
The tan may not be deep enough for some users
Must be reapplied regularly for consistent sun protection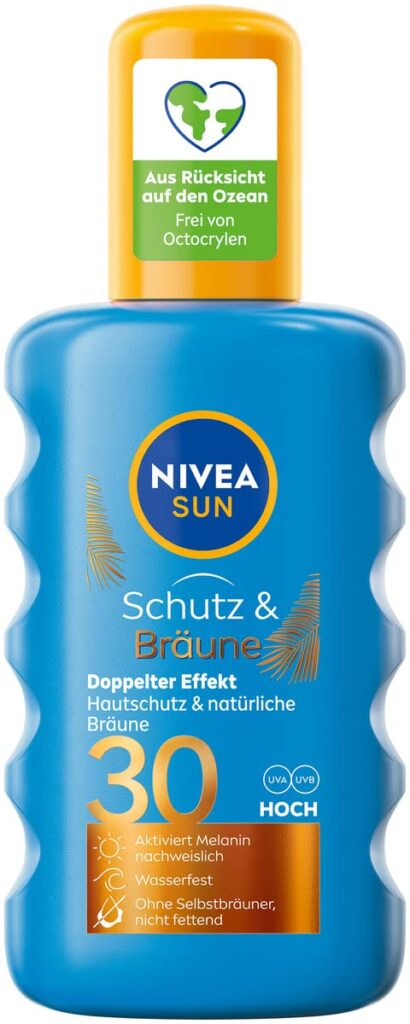 Embrace the power of the sun with the TannyMaxx Dark Super Black Tanning Lotion. This product delivers an incredibly intense and deeply pigmented tan as it features a potent blend of Melanin, Aloe Vera, and various natural oils.
This self-tanning lotion is perfect for those seeking a bold look. Not just about the color, this lotion is infused with hydrating ingredients that moisturize your skin, providing a nourishing tanning experience.
Pros:
Deep, intense tan
Moisturizing formula
Ideal for those seeking a bold look
Cons:
May be too intense for fair skin tones
Requires careful application to avoid streaks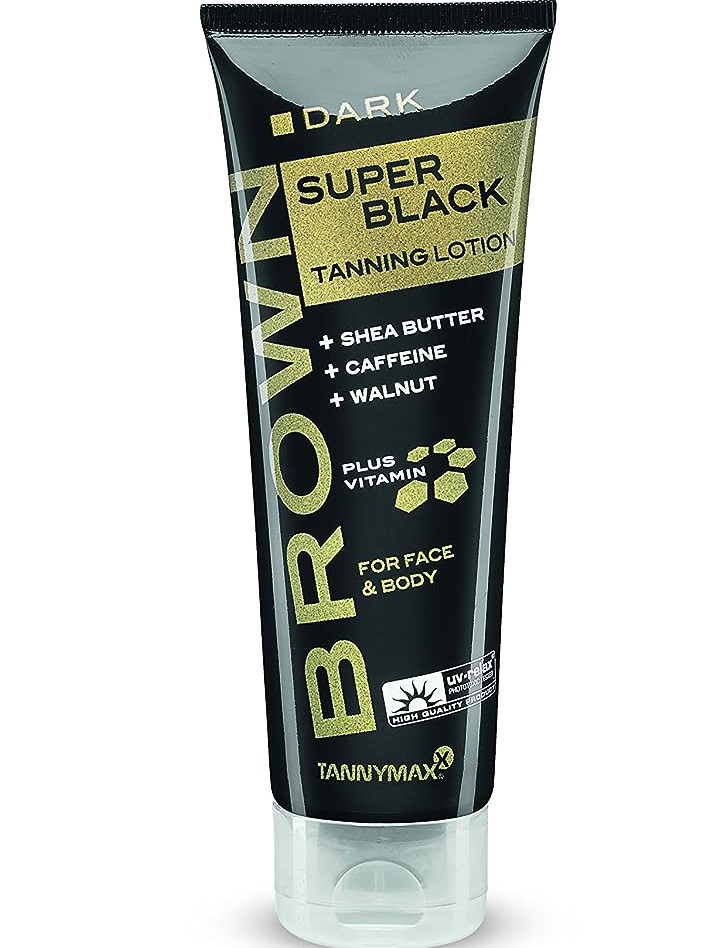 For a truly personalized tanning experience, Tan Luxe THE FACE Self-Tanning Drops are a game-changer.
This self-tanner harnesses the power of Raspberry Seed Oil, Vitamin E, and Aloe Vera, all known for their nourishing and hydrating properties. Raspberry Seed Oil, rich in essential fatty acids, has excellent anti-inflammatory properties, while Vitamin E and Aloe Vera are known for their ability to soothe and hydrate the skin.
Its potent, dark formula empowers you to control the depth of your tan. Not only is it vegan and cruelty-free, but it also seamlessly integrates with your regular face moisturizer, enhancing your skincare routine while imbuing your skin with a sun-kissed glow.
Pros:
Customizable depth of tan
Vegan and cruelty-free
Can be mixed with your regular face moisturizer
Cons:
On the pricier side
Results may vary, requiring some trial and error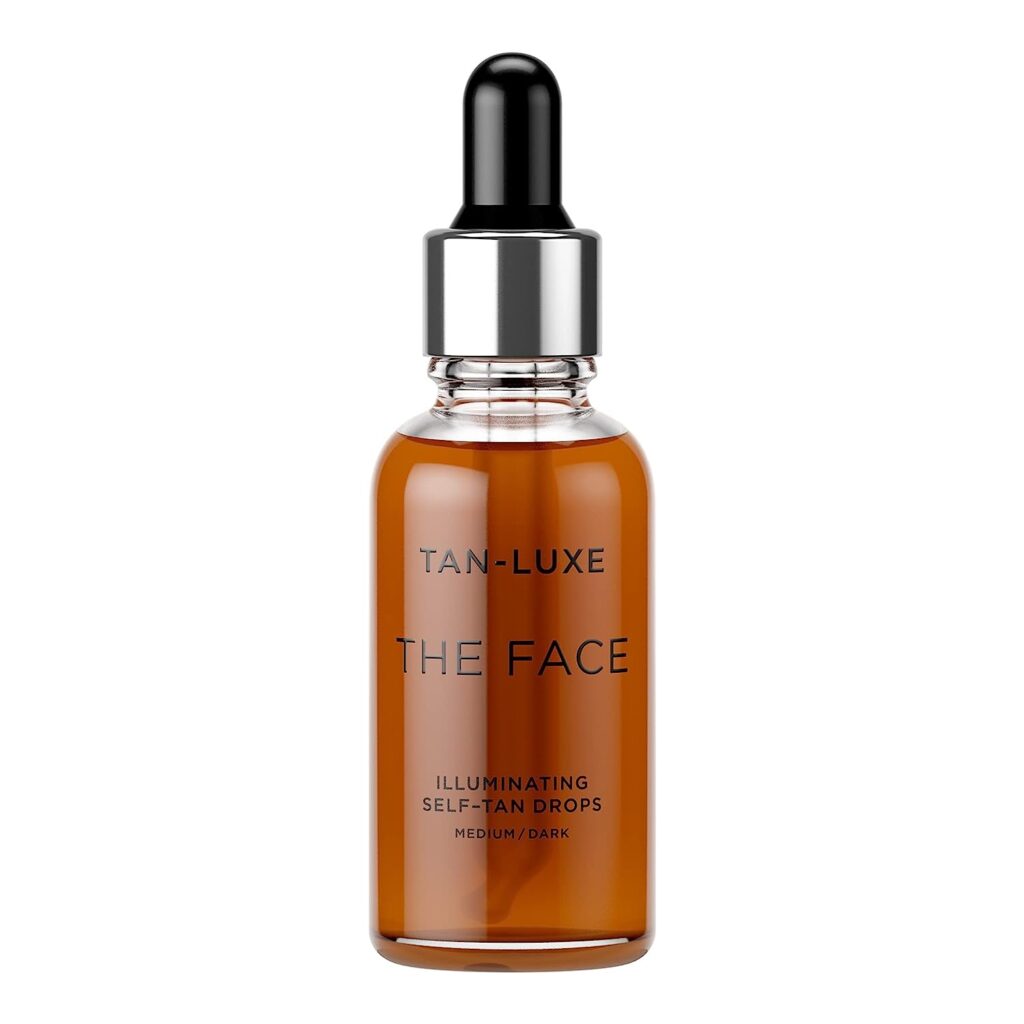 Meet the Academie Bronz Express – the fast-acting self-tanner that helps you bid farewell to your pale winter skin. Its uniquely tinted formula allows for a foolproof application and imparts an immediate bronzed glow to your face and body.
The key ingredient in this product is Dihydroxyacetone (DHA), a sugar compound that reacts with the proteins in your skin to deliver a natural-looking tan. DHA is a safe and effective ingredient that does not cause skin damage. You'll love the confidence it brings, as it saves you from the worry of streaks and offers a beautiful tan right from the first application.
Pros:
Gives an instant tint for immediate results
Easy to apply evenly due to the tinted formula
Suitable for both face and body
Cons:
The tint can stain light clothing and bedding
Requires thorough hand-washing after use to avoid orange palms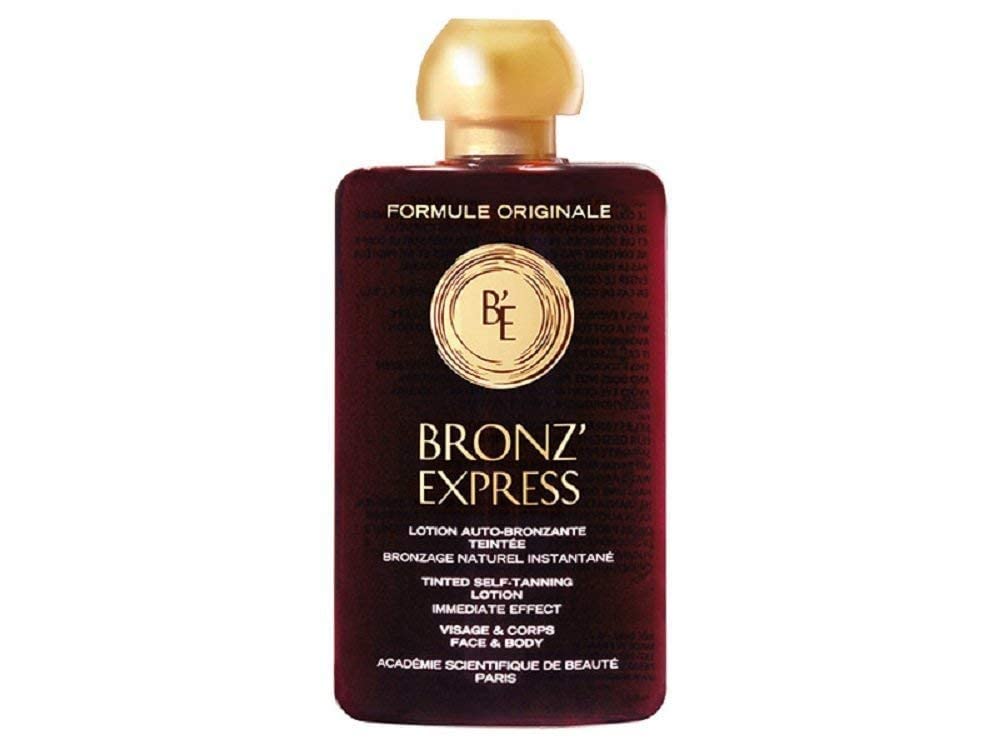 FAQs
Question 1: How Long Does It Take For Self-Tanners To Show Results?
Answer: Most self-tanners begin to show results within 2-4 hours of application, with the full effect usually visible after 24 hours. It depends on the product's formulation and your skin's reaction to it.
Question 2: How Often Should I Apply Self-Tanners?
Answer: It depends on the product and the depth of tan you desire. Generally, reapplying every 2-3 days can maintain a consistent tan. Always follow the instructions on the specific product you're using.
Question 3: Are Self-Tanners Safe For Sensitive Skin?
Answer: Yes, many self-tanners are formulated to be gentle and are safe for sensitive skin. However, it's always recommended to do a patch test first to ensure you don't have an adverse reaction.
Question 4: Can I Use A Self-Tanner As A Sunscreen?
Answer: Most self-tanners do not offer sun protection unless specifically mentioned. It's always crucial to use a separate sunscreen to protect your skin from harmful UV rays.
Conclusion
Embrace the charm of a sun-kissed glow, without the sun damage. The world of self-tanners is vast and varied, but finding the perfect match for your skin is a game-changer.
Whether you crave a deep bronze or a gentle glow, there's a product in this guide that caters to your tanning dreams. Always remember, the best tan is the one that makes you feel confident and radiant, just like the summer sun!
Keep this guide handy and let your tanning journey be as smooth and golden as the tan you aspire to have!
Read More:
The Best Sunscreens Available In Germany You Need to Know About
The Best Available Sunscreen for Kids in Germany
The Best Pregnancy-Safe Sunscreens for Ultimate Skin Protection